The final Wayne's Music


Wayne Mowat with colleagues and on location.
Respected broadcaster Wayne Mowat retires this week. He recalls some highlights from his career:
"It has been quite a ride, starting as a radio-mad kid, and when I heard "Aunt Daisy" greet her devoted nationwide audience one morning, I knew that somehow I wanted to be a part of RADIO. 
After getting a start as a cadet reporter at The Evening Star, I was persuaded in 1965 to sit a copy test for 4ZB, and soon was writing scripts/advertising for radio stars like Dougal Stevenson, Cathy Dowling (Saunders), John Blumsky and other top jocks.
They were mad-cap days - not unlike the TV sit-com WKRP.
After more fun and games at 2ZW in Whanganui for a year or so, the University of Life called, and I headed off overseas doing whatever work came my way in Australia, Britain, and Europe. A three year O.E. was a solid grounding for what was to follow in New Zealand radio: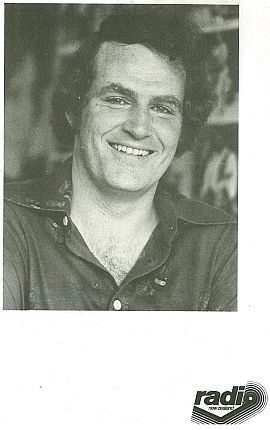 Four years doing all shifts in Twin City Radio Hawkes Bay after "graduating" from Announcer Training School in Wellington (Haydn Sherley and Keith McIntyre should have been knighted for turning out a whole generation of top-class presenters/producers/performers). 
It was decided to network 23 Commercial Stations in 1977. Little did I know that I would be appointed to host 'The Tonight Show' in Wellington - talk-back, talk-about, talk-to, interviews, music, horse-racing, cricket and rugby commentaries, and specialist programmes - we made it up as we went along!
I was on the air the night of The Erebus Disaster, (nobody went home that night), The Abbotsford Disaster and John Lennon's assassination.
During a stint as Announcer-In-Charge with 2ZB, I was selected for the Radio team for the 1984 Los Angeles Olympic Games, again, broadcasting by the seat of our pants, a wonderful experience and a career highlight.
While in LA, I was invited to take over National Radio's Nine To Noon programme when Sharon Crosbie left to study overseas. Big shoes to fill, and for the first few weeks I wondered what I had let myself in for. My commercial radio colleagues told me I was mad, but I saw it as a challenge, and thirty years later, it's a challenge I'm very glad I embraced, because of the sheer joy and fulfilment that 5 years on mornings and then 16 years of afternoons 'In Touch With New Zealand' has brought.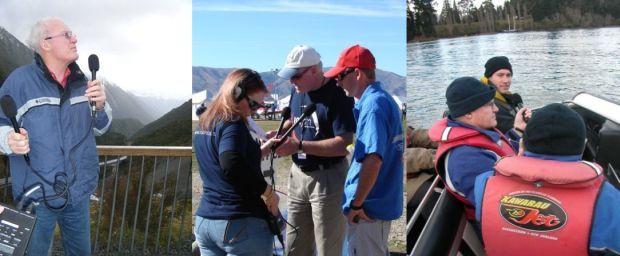 Wayne Mowat, at home interviewing New Zealanders up mountains, down rivers, and all places in between.
I would rate the many outside broadcasts from all parts of New Zealand, meeting and talking to thousands of real New Zealanders, as the standout occasions. 
Many thanks.
Wayne Mowat,
Senior Presenter, Radio New Zealand
THE LAST WAYNE'S MUSIC
Wayne's Music 5/6 July 2014 - From the Rhythm and Rock Era 1950s.
'Bring it Home to Me'            
Ella Johnson and The Beejays with Buddy Johnson's Orchestra  - showing all of the feistiness she displayed as the chief vocalist with her brother's band from 1940 until he disbanded in the mid 1960s.
'Bye Bye Love'             
The Everly Brothers with the first song you probably heard from them.
'I'm Walkin'                  
Fats Domino wrote this after his car broke down and he had to walk … hey look at me I'm Walking … so he knocked up a song about it
'She Wears Red Feathers'            
after Frankie Laine, Guy Mitchell was the most consistent hit maker of the 50s. 
'Puh-Leeze Mr Brown'            
Shirley Bassey – possibly the most successful female singer in British Chart History
'A Handful Of Songs'             
Tommy Steele with his double-sided hit record – he took "Water water" and this one into the charts in 1957
'Young Love'                
Sonny James  with one to take you back when you were parked up in your 56 Chev …
'Bluebottle Blues'          
The Goons with Maurice Ponke and His orchestre Fromage … the flip side of "I'm Walking Backwards For Christmas"
'Half As Much'              
Rosemary Clooney  - a classic song like the lady herself who had few peers.
'Theme From the Threepenny opera' 
Louis Armstrong with one from the Musical treasury Of All Time …
'Sway'                 
Dean Martin with the 1953 song written by Mexican Bandleader Pablo Beltran Ruiz
'You Played On My Piano'               
Helen Humes did the lot –cutting country blues with just acoustic guitar in the 1920s, big band swing in the 30s, jump blues in the 1940s, rhythm and blues and rock ' roll in the 50s and jazz in the 1970s.
'Kansas City'                 
Wilbert Harrison – I vaguely remember this song on the radio when American Evangelist Billy Graham was on his Crusade to New Zealand with 60,000 in the audience at Carlaw Park in Auckland.
'Big Man'            
The Four Preps – four young men from Hollywood High School spotted by Capitol records at a talent quest. Over the next 8 years they would reach the Billboard Charts with 13 different songs. 
'Such A Night'              
Johnny Ray
'Jailhouse Blues'            
Ottilie Patterson the very fine Northern Ireland blues singer was actually trained as a classical pianist – but when she was a student she was exposed to jazz and blues and eventually started playing with local jazz bands. 
'Honeycomb'       
Jimmie Rodgers with a 1957 hit
'I Like You Kind Of Love'                
Andy Williams  with Peggy Powers.
Wayne's Music Sunday 6th July 2014.  The Rhythm and Rock of the 1950s.  PART ONE
'When Mexico Gave Up The Rhumba'        
Mitchell Torok singing about rock and roll even moving into Mexico with its strong traditional dances … like The Rhumba. 
'Tonight You Belong To Me'             
Patience And Prudence, their music for the most part arranged by their father Mark McIntyre, who had played piano for Sinatra in the '40s and worked as an arranger for numerous other major stars of the post-war period - retains its beguiling sweetness and charm more than half a century after it was recorded. 
'Who's Sorry Now'                
Johnnie Ray with a song that was w ritten in 1923 … his rendition didn't really do much, but quite a few years later it was a #1 for Connie Francis. 
'Little Red Rooster'        
Carol Jarvis …a babe from Bandstand in the early days with the Dot records House band working overtime – led by pianist Milt Rogers. 
'I'll Come Running Back To You'     
The sweet soul of Sam Cooke – such a tragedy that he died at such a young age …His death at 33 remains shrouded in mystery,  …. this was the first record Sam Cooke made outside of gospel music..
'Blue Jean Bop'             
Gene Vincent … the 1950s was all about Blue Jeans – and rockabilly king Gene Vincent summed it all up with this classic rocker – with stunning guitar breaks from his lead axe-man Cliff Gallup. 
PART TWO
'Just A Gigolo'/'I ain't Got Nobody'          
Louis Prima with his faithful backing band Sam Butera and The Witnesses and his wife Keely Smith on background vocals.
'Comes Along A Love'           
Kay Starr – now there was a voice!! 
'All Shook Up'              
Elvis Presley with his #1 song that possibly life-changing for many – it was so simple, and rocks along right from the start with that gorgeous piano vamp from Dudley Brooks. 
'That'll Be The Day'      
Buddy Holly  Holly and his band The Three Tunes recorded this in Nashville in 1956, but Decca records didn't like the result and refused to release it. A year later, Holly re-recorded it with The Crickets in a studio in Clovis, New Mexico owned by his new producer, Norman Petty.
'Whatever Will Be Will Be (Que Sera)'         
This became Doris Day's biggest hit and her signature song, but she didn't want to record it because she thought of it as a children's song.
'Remember You're Mine'                   Pat Boone. 
'Whole Lotta Shakin Goin On'           Jerry Lee lewis  … the story is that this song was recorded in mono with one microphone at Sun Records. 
'You'll Never Know'                
The Platters when Tony Williams was the lead voice … with the originals David Lynch, Paul Robi, herb Reed, and Zola Taylor …
'Yes Tonight Josephine'          
Johnnie Ray with possibly his last top ten number – a classy arrangement by Ray Coniff.      
'Every Night'                 
Peggy Lee the Icon of Swing goes rock and roll  in 1957.
'Tom Dooley'                
At the very first Grammy Awards in 1958, this won for Best Country & Western Performance.
'A Woman In Love'                
Frankie Laine  with an almost forgotten version he recorded of the song from Guys And Dolls – yet it stayed at the Top of The Charts for 4 weeks in 1955. 
'Searchin'                  
The first of many for The Coasters from ther pens of Jerry Leiber and Mike Stoller – a classic rock'n'roll sound from 57. 
'Burn My Candle (At Both Ends)'     
The first single for Shirley Bassey but because of the suggestive lyrics and her raunchy delivery, The BBC banned the disc as "too risqué" ..Shirley Bassey was 19 when she recorded it in 1956. 
'The Green Door'
Jim Lowe – a working Disc Jockey when he recorded this.
'Sugartime'          
The McGuire Sisters with one from the Ponytails, Hooped Skirts and Bobbysox hit parade  … a classic pop song.

'Blue Suede Shoes'                 
Carl Perkins with what is considered to be the first rockabilly record.
'Don't You Rock me Daddy-O'             
The Vipers Skiffle Group.
'Mack The Knife'         
Bobby darin with The record of the Year … 9 weeks at #1 in 1959.