Nick Bollinger encounters the black comic Americana of Johnny Dowd.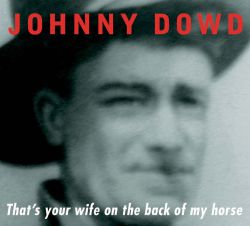 Johnny Dowd is not an artist who could ever complain of being threatened with fame and fortune. He's never been signed to a major, never had a breakout hit and, by his own admission, his music 'does not have universal appeal'. And yet for anyone who's curious, this American original has created a deep catalogue that's there to explore; some fourteen albums and growing. Born in Texas in the late 1940s, and raised in Memphis, Tennessee, Johnny Dowd didn't make his first record until he was nearly fifty, by which time he had been a solider stationed in Berlin, experimented with psychedelics, and run a small trucking company out of Ithica, New York, which remains his bread and butter this day.
I've seen Dowd's music referred to under the heading of Americana, and broadly I guess that's what this is. But Americana tends to conjure rootsy sounds - fiddles, banjos and such-like – and that's never really been Johnny Dowd's poison. Even when he played acoustic guitar on his early records, it was more in the manner of a dissolute busker. But his subsequent recordings have taken a weaving path through cocktail jazz, prog rock, and sub-Captain Beefheart skronk. But his latest musical phase is surprising, even to listeners who are used to Johnny's surprises. Because much of That's Your Wife On The Back of My Horse is, more or less, Dowd's version of dance music. Like his very first record from twenty years ago, Wrong Side Of Memphis, he has played almost everything on the album himself. And this has largely involved synthesisers and drum machines, though he has managed to make these instruments sound as queezy as anything he puts his hands on.
If you were to assume the narrator in all of Dowd's songs was Dowd himself – and he usually writes in the first person – he'd be a drunkard, sexual deviant, murderer, a philanderer and an incurable boast, and I'll assume he's innocent of at least one of those charges. So he's mostly writing in character, and those characters may or may not see the world the way others around them do. The situations they find themselves in are often terrible; they might have lost their marriage, committed some unspeakable crime or seen their life go down the drain in any number of ways. And yet, however grim the circumstances, listening to what they are saying and the way they say it, can seem blackly funny. It's the theme that runs through all of Dowd's work – fourteen albums of it – and, in a way, it's nothing less than the humour of human folly. That's a big theme, a great one, and Dowd is as astute an observer of it as anyone I've ever heard. And I don't think he's finished with it yet.
Songs played: That's Your Wife On The Back Of My Horse, Why?, My Old Flame, Empty Purse, Words Are Birds, Dear John Letter, White Dolemite