My Name Was Judas by C.K. Stead
In this reading by New Zealand's latest Poet Laureate, Judas Escariot's recounts the life and death of Jesus in a story of friendship and rivalry, of uncertainty and enquiry, of challenges to belief, endurance and loyalty.
Produced by Adam Macaulay and engineered by Phil Brownlee for Radio New Zealand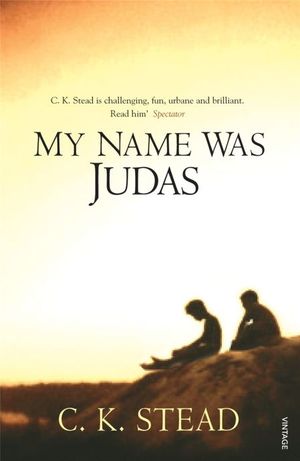 Published by Vintage
ISBN: 9780099501381
C.K. (Christian Karlson) Stead is one of New Zealand's foremost literary figures. He is an outspoken, award-winning and critically acclaimed poet, literary critic, novelist and short story writer, essayist and editor. His academic specialisation has centred on poetic and critical Modernism, particularly T.S. Eliot, Ezra Pound and W.B. Yeats, but also including Katherine Mansfield, from whose letters and journals he edited a selection, and about whom he recently wrote a novel.  Stead was Professor of English at the University of Auckland for 20 years until he took early retirement in 1986 in order to write full-time, and remains an emeritus professor. He has won and been shortlisted for many prestigious awards (see below where his publications are listed). He was first winner (1961) of the BNZ Katherine Mansfield Short Story Prize. In 1972 he was the Mansfield Menton Fellow.  In recent years he has held the Michael King Writer's Fellowship (2005), and in 2007 and again in 2011, the Bogliasco Fellowship in Literature at the Liguria Study Centre near Genoa. He was made a Commander of the Order of the British Empire (C.B.E.) for services to New Zealand Literature in 1985, and in 2007 received our highest honour, the Order of New Zealand. In 1995, he was elected Fellow of the Royal Society of Literature and was a Senior Visiting Fellow at St John's College, Oxford (1996–1997). In 2001 he won the Landfall Essay Prize, and in October of the same year the King's Lynn Award for Merit in Poetry.  In 2010 he won The Sunday Times EFG Private Bank Short Story Award (the world's largest short story prize), and also the open section of the inaugural 2010 International Hippocrates Prize for Poetry and Medicine. In 2009 he received the Prime Minister's Award for Literary Achievement in Fiction, and was Seresin Landfall Writer in Residence in Tuscany. In 2011 he was short listed for the Montreal International Poetry Prize. 
Stuart Devenie is undisputed as one of New Zealand's finest actors – his list of credits and awards and glowing reviews is justifiably extensive.