Sleet On The Silverbeet
A mix of mandarin, anthropology and bad weather at an inner city fruit and vege market. Audio
Even a southerly storm does not deter stall-holders or bargain-hunters at the capital's inner-city fruit and vege market. Jack Perkins and anthropologist Katie Miller sample the produce and the people.
Drenched in near-freezing rain, at least the broccoli and bok choy stay fresh. This vicious sou'easter really is an ill-wind for stall-holders and customers alike in this carpark, which becomes a market every Sunday morning in inner city Wellington.
But these vege growers from Otaki are a hardy lot. "We've known far worse in China." they tell anthropologist and Mandarin speaker Katie Miller. Katie shops here every Sunday but she's not only attracted by the cheap fruit and veg, she's made a study of a fascinating triangle of relationships formed by food, markets and shoppers.
"What's going on here is far richer and more varied than the supermarket down the road," says Katie. Customers agree: a pensioner always shops here after church. After all, when you've been on your knees, it's nice to be back on your feet in the open air with lots of busy people.
Cabbies and shift-workers shop here during the night but the low prices are hugely significant for the inner city poor, students and immigrants. One young student always brings $30 and spends not a cent more; she feeds herself for a week. Well, cherry tomatoes are two bucks a box - and $7 in the supermarket.
An elderly woman not only shops here, she also organises parking at $2 a pop. Proceeds help build boats for disabled seamen. She's raised thousands of dollars.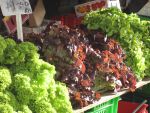 Produced by Jack Perkins