Evolution
From Our Changing World
Antarctica's cold temperatures help preserve ancient DNA and several Antarctic animals have become models for genetic studies.  Find out what they teach us about evolution.
A team of Massey University scientists reports that giant icebergs have promoted micro-evolution in Adelie penguins. Audio

David Lambert has managed to extract ancient DNA from frozen snow petrel vomit as part of his evolutionary studies. Audio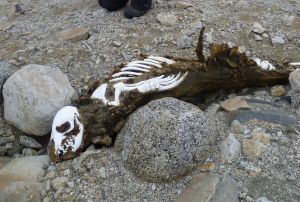 A collection of Our Changing World stories about Antarctica.
Gallery
More about Antarctica on Radio New Zealand
Pole To Pole
A three-part documentary series marking the International Polar Year 2007-2008.
Nine to Noon in Antarctica
Kathryn Ryan visits Scott Base and meets scientists researching climate change.