Nine To Noon for Tuesday 20 December 2011
09:05 Are too many bars flouting non smoking rules with partially enclosed outdoor smoking areas?
Professor Richard Edwards, Head of Department of Public Health; Otago University, Wellington; Michael Colhoun, spokesperson for ASH, Action of Smoking and Health; and Bruce Robertson, Chief Executive of Hospitality New Zealand.
09:20 Polar centenary and future of Antarctic treaty
Kathryn Ryan speaks to the chief executive of Antarctica New Zealand, Lou Sanson about the history and future of Antarctica, including that historic polar race and the role New Zealand played.
Gallery: Sir Edmund Hillary in Antarctica and Scott and Shackleton's huts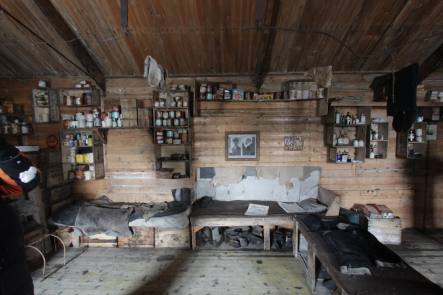 Inside Shackleton's Nimrod Hut at Cape Royds.
09:45 North Korea
Tim Beal, academic, author and expert on North Korea.
10:05 Big Year Interview - Jon Macdonald
The chief executive of online auction site Trade Me, which listed on the share market last week after Fairfax sold down a 34 percent stake in the company. Jon joined Trade Me in 2003 to manage the technical team, and in 2007 he graduated to general manager, when CEO and founder Sam Morgan took a step back from the company.
10:35 Book Review with John King
Holidays in Heck by P J O'Rourke
Published by Grove Press
10:45 Reading: Pohutukawa Candle, a short story by Robyn Brinkman
Sophie resents having her birthday on Christmas Day, though she knows she should have got over her Birthmas disorder, by now.
11:05 Business commentator Rod Oram
11:30 The Art of Computer games
Pippin Barr is a New Zealander who lectures on and designs video games. He's an avid gamer but also has a scholarly understanding of how these games are changing our lives. One of his acclaimed game designs is a little different from the normal shoot-em-up ones - it's based on a work of performance art by Marina Abramovic.
Pippin has just published a book called How to Play a Video Game - it demystifies the world of video games for non-players but is also an eye-opening read for players keen to know more about this cyber universe.
Pippin is based in Denmark – he works and teaches at the Center for Computer Game Research at IT University in Copenhagen – but is originally from Wellington (his parents are well-known art collectors Jim and Mary Barr).
How to Play A Video Game
Awa Press
ISBN: 9781877551314
11:45 Media commentator Gavin Ellis
The political reporting merry-go-round at TVNZ and TV3, and speculates on a successor to Guyon Espiner.