Nine To Noon for Wednesday 7 September 2011
09:05 An ombudsmans report into a series of attacks at the school in 2007 has found some children were terrorised and tortured by a gang of fellow teenage students
David McGee, Ombudsman - author of report into bullying at Hutt Valley High School; and Ross Sinclair, Principal of Hutt Valley High School since 2008.
09:25 Calls for more help for former sawmill workers with serious health problems caused by exposure to PCP
Nikora Curtis, former Whakatane Sawmill worker, who formed the group SWAP in 1990 - Sawmill Workers Against Poisons; and Dave McLean, Massey University scientist who led the 2008 study Health Outcomes in former NZ timber workers exposed to Pentachlorophenol (PCP).
09:45 Australia correspondent Ray Moynihan
Rupert Murdoch's national newspaper The Australian makes the news itself, Australian involvement in the war in Afghanistan and where now for asylum seekers now the High Court has rejected offshore processing.
10:05 Reverend James Cooper - 17th rector of Trinity Wall Street
Trinity Wall Street is located in the heart of Manhattan's financial district and its St Paul's Chapel, which stands just across the street from Ground Zero, was used as a staging area for volunteers who helped first responders and families searching for loved ones after the September 11 attacks. As Rector and CEO, Dr Cooper oversees Trinity's extensive ministries, locally and globally, which are sustained by the church's substantial real estate holdings.
10:35 Book Review with Sonja de Freiz
The Sweet Second Life of Darrell Kincaid by Catherine Robertson
Published by Black Swan
10:45 Book Reading: How To Watch A Game Of Rugby by Spiro Zavos
We learn about the impact of sex on rugby, are taken through a brief history of nearly everything about the game, and discover the difference between the forwards and the backs.
11:05 Marty Duda's Artist of the Week
Texas-born singer-songwriter Guy Clark. The 70-year-old artist has just released his second live album Songs And Stories.
1. L.A. Freeway (4:43) - Guy Clark taken from 1975 album "Old No.1" (RCA)
2. The Randall Knife (4:13) - Guy Clark taken from 1983 album, "Better Days" (Warners)
3. Dublin Blues (4:19) - Guy Clark taken from 1995 album "Dublin Blues" (Elektra)
4. If I Needed You (4:51) - Guy Clark taken from 2011 album "Songs And Stories" (Dualtone)
Marty's website is: www.13thfloor.co.nz
11:30 Legal commentator Ursula Cheer
How UK newspapers the Sun and Daily Mirror were fined for contempt of court for articles published about a man arrested on suspicion of murdering Joanna Yeates.
11:45 Science commentator Simon Pollard
Some of the extraordinary lengths some animals will go to to escape the grasp of a predator.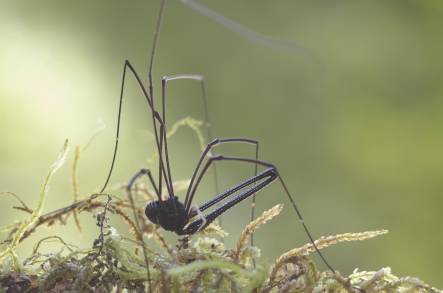 A male Pantopsalis luna, whose very long legs have a few tricks up their sleeves, when it comes to saving the body they are attached to.