Nine To Noon for Wednesday 29 September 2010
09:05 Constitutional implications of the Canterbury quake legislation
Andrew Geddis, Otago University associate professor of law and spokesperson for a group of 27 New Zealand legal scholars who have written an open letter outlining their deep concerns over the constitutional implications of the Canterbury Earthquake Response and Recovery Act 2010; and Austin Forbes, QC, convener of the Law Society's rule of law committee.
09:20 Lockerbie bombing
Jim Swire, father of Flora Swire, who died in the 1988 bombing of Pan Am Flight 103 over Lockerbie, which claimed 270 lives, mainly Americans. He recently went to Libya to visit Abdelbaset al-Megrahi, the only man convicted of the atrocity. He believes Megrahi is innocent and wants a full inquiry.
09:45 Australia correspondent Karen Middleton, chief political correspondent for SBS Television
10:05 Alison Paterson - business leadership
Alison Paterson is the chair of Abano Healthcare Group, former board member of the Reserve Bank, former chairwoman of state-owned Landcorp Farming, Waitemata Health and the District Health Boards of NZ, among other roles.
10:30 Book Review with Graham Beattie
From the Dead by Mark Billingham
Published by Hachette
10:45 Reading.
Bunsen Versus The Republic By Owen Marshall
A futuristic story about a defence lawyer representing a client facing charges of eating living vegetable matter.
11:05 Music review with Marty Duda
Artist of the Week: Ben Folds
1. Brick (4:32) - Ben Folds Five taken from the 1997 album "Whatever And Ever Amen" (Epic)
2. Rockin' The Suburbs (4:58) - Ben Folds taken from the 2001 album "Rockin' The Suburbs" (Epic)
3. Jesusland (4:30) - Ben Folds taken from the 2005 album "Songs For Silverman" (Epic)
4. Belinda (4:25) - Ben Folds taken from the 2010 album "Lonely Avenue" (Nonesuch)
11:30 Legal commentator Catriona MacLennan
Government's unrealistic expectations of Community Law Centres and the first Supreme Court decision under the Care of Children Act 2004.
11:45 Arts commentator Courtney Johnston
The beginning of the big summer show season: Roundabout at City Gallery Wellington and Ron Mueck at the Christchurch Art Gallery, plus a smaller show by Peter Trevelyan.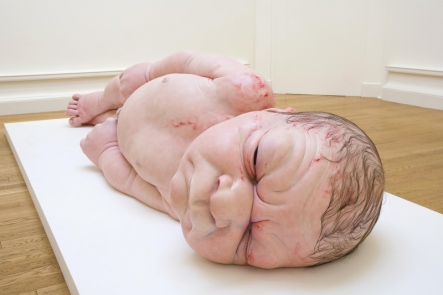 Ron Mueck, A girl, 2006. Polyester resin, fibreglass, silicone, synthetic hair, synthetic polymer paint, second edition, artist's proof. Scottish National Gallery of Modern Art, Edinburgh, purchased with assistance from The Art Fund 2007. © Ron Mueck courtesy Anthony d'Offay, London. Photo: Antonia Reeve.

Ron Mueck, Two women, 2005. Polyester resin, fibreglass, silicone, aluminium wire, steel, wool, cotton, nylon, synthetic hair, plastic, metal, ed. 1/1. National Gallery of Victoria, Melbourne. Purchased, Victorian Foundation for Living Australian Artists, 2007. © Ron Mueck courtesy Anthony d'Offay, London