Music 101 for Saturday 11 June 2011
Saturday 11 June 2011
Emma Smith hosts this week's show, while Kirsten is away.
2-3 pm
Sonny Rollins
The colossus of the saxophone, Sonny Rollins (pictured right, with Nick Bollinger), talks about 60 years in the jazz business. Listen to Sonny Rollins here.
Bond Street Bridge
Multi-instrumentalist Sam Prebble has again used everything but the kitchen sink on his new album as Bond Street Bridge - lighter flints, key rings and staple guns sit alongside mandolins, organs and pianos on Spring Summer Awesome Winter. Sam Wicks meets up with Sam Prebble on the actual Bond Street Bridge. Listen to Bond Street Bridge here.
Introducing: Sheep, Dog and Wolf
Our new Music 101 feature gives newish local artists two minutes to explain themselves and their song.
Martin Rushent
We recall the work of this influential post punk/ synth-pop producer (The Stranglers, The Buzzcocks, Human League etc) who died this week.
3-4 pm
Mulholland
It began with his father finding a broken guitar in a ditch near a small southern town called Washdyke on the outskirts of Timaru. Jol Mulholland and his three brothers all learned to play and now Jol is off to New York City with Liam Finn, but not before he releases his first solo album, Eugene Told Me You Were Dead. Listen to Mulholland here.
The Sampler: Nature's Worst
With NZ Music Month behind us for the year, Nick Bollinger takes a listen to Nature's Worst - a compilation of lo-fi songs that deal with some of the more inane, boring, and annoying things about this fine nation. More from The Sampler here.
Mr Sterile Assembly
The Wellington two piece talk about their roots, and of the making of Transit- a multi-disciplinary album project full of strange synchronicities. Listen to Mr Sterile Assembly here.
4-5 pm
Liam Finn in session
Liam and his band - lil' bro Elroy Finn and Jol Mulholland - play a special session in London for Music 101, featuring songs from his forthcoming second solo album Fomo. Liam talks about exactly what he's afraid of missing out on, and his parent's band Pajama Party. Listen again here.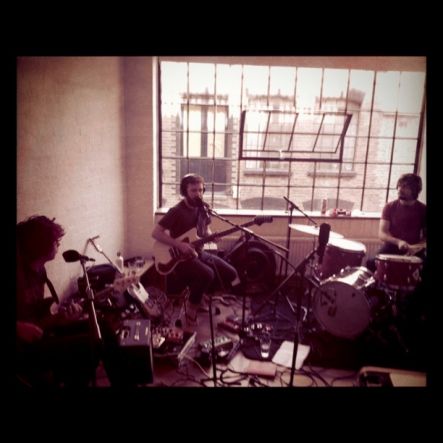 Liam and Elroy Finn, with Jol Mulholland in London
Introducing: Joe Blossom
The Sampler: The McGarrigle Sisters
Nick Bollinger listens to a retrospective collection from Canada's McGarrigle Sisters.