Jazz Footprints for Wednesday 6 July 2011
11:00 PM.Christchurch pianist Doug Caldwell has recently released his book 'My Life In The Key of Jazz' co-written with Rosa Shiels and published by the Christchurch Polytechnic. Doug has been playing and… Read more Audio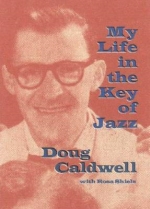 Programme 3 in a series of 13
Christchurch pianist Doug Caldwell has recently released his book My Life In The Key of Jazz co-written with Rosa Shiels and published by the Christchurch Polytechnic. Doug has been playing and performing for over 60 years and host Colette Jansen talks with him about the inspiration for his book.  It includes stories of his contact with artists like Emily Remler, Buddy Tate and one of his favourites - NZ's own Mavis Rivers.
Music Details:
Kenny Drew: I Could Write a Book
Composer: Rodgers / Hart
From the album: Kenny Drew - The Riverside Collection
(Riverside)
Emily Remler: Snowfall
Composer: Thornhill
From the album: East to Wes
(Concord)
Mavis Rivers: It Seems Like Old Times (1.46")
Composer: Stept / Tobias
From the album: Ann Richards Live at the Losers / Mavis Rivers We Remember Mildred Bailey
(VeeJay)
Doug Caldwell: Everything I Love
Composer: Porter
From the album: Waiting At The Red Door
(Polyjazz)
Doug Caldwell: Minor Mishap
Composer:  D Caldwell
From the album: Waiting at the Red Door
(Polyjazz)
Buck Clayton: Out of Nowhere (7.13)
Composer: Green/Heyman
From the album: Jam Sessions From The Vault
(Columbia)

Links:
Watch a performance and interview with Doug Caldwell.
Doug Caldwell's book My Life in the Key of Jazz.