Taupo Farmers Mike and Sharon Barton and two of their charolais angus cross cattle.
Mike and Sharon Barton farm two kilometres from the shores of Lake Taupo. Like many in region they've had to adjust to farming under strict environmental rules which means, unlike most farmers, they can't cover rising costs simply by intensifying production.
Rather than being daunted by the legislation, they've embraced it and increased the value of what they farm, changing from running breeding cows, to having charolais angus cross cattle which produce tender, well-marbled meat. 
Taupo Beef is sold directly to a local butcher who sells it in his retail shop as well as to top end Taupo restaurants like Huka Lodge and the Hilton.
Mike says before they developed the Taupo Beef brand, he spoke to many chefs and the one thing they all said let down New Zealand producers was consistency.
"The chefs didn't care if the beef was 90% of perfect, as long as it was 90% all the time. Not 100% one week and 50% the next."
Taupo's M21 butcher Jake Lewis says the beef is well aged, giving it fantastic flavour, and customers love it. They're prepared to pay a premium to get the quality.
Hilton hotel chef Jason Lewis agrees. "We did a comparison with another beef product. We set the price of the Taupo Beef dish slightly higher but the overwhelming response was that the Taupo Beef was superior so we've just gone for it in the restaurant."
The Bartons also won this year's Waikato Ballance Farm Environment Supreme Award, and Mike was awarded a Queen's Service Medal in this year's Queen's Birthday Honours, for his services to farming and the environment.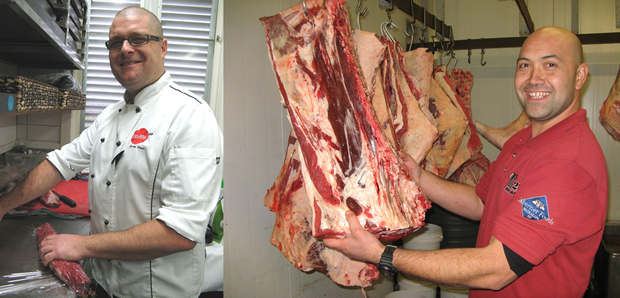 Hilton chef Jason Lewis prepping some Taupo Beef and butcher Jake Morris.