Country Life for Friday 28 August 2009
(Below left) Marius and Corrie Van der Put with an employee in one of the witloof growing darkrooms (Below right) sorting and packing a fresh batch of witloof.
Grilled Witloof, Ham and Cheese
Chef: Patricia Herselt
Ingredients
4 hearts of witloof
20 gr butter
100 ml water
1/2 organic stock cube
black pepper
nutmeg
4 slices of good quality cooked ham
For the cheese sauce:
50 gr butter
50 gr flour
300 ml milk
100 grated, mature cheese (cheddar, Gruyere or Gouda)
seasoning
Method
Clean-up the witloof by slicing off the brown bottom end and crossing in about 1 to 2 cm deep. Remove damaged leaves (if any).
Melt the butter in a pan and sauté the witloof hearts, add stock cube, pepper and nutmeg. Add the water and let it simmer until the cores are tender.
The witloof shouldn't burn, so add extra water if necessary
Drain in a colander, but keep the liquid.
Meanwhile make your cheese sauce.
Melt the butter in the pan and mix in the flour. Add the milk and vegetable liquid; bring to the boil, while stirring all the time. The sauce should be cooked through for at least a minute to prevent the floury aftertaste.
Take off the heat and stir in half of the cheese.
Roll each heart of witloof in a slice of ham and arrange in an ovenproof dish.
Pour over the cheese sauce and sprinkle with the rest of the cheese.
Put in a preheated oven 180 ° C or under the grill till the cheese on top has become golden brown.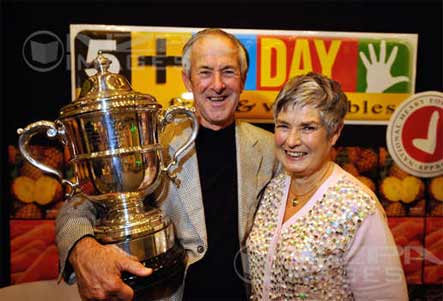 Horticulture industry's premiere award recipient Ron Becroft with his wife Colleen and the Bledisloe Cup at the Horticulture NZ annual conference dinner, Christchurch, New Zealand, Wednesday, July 22, 2009. Credit:NZPA / Supplied.