Navigation for Station navigation
Yadana Saw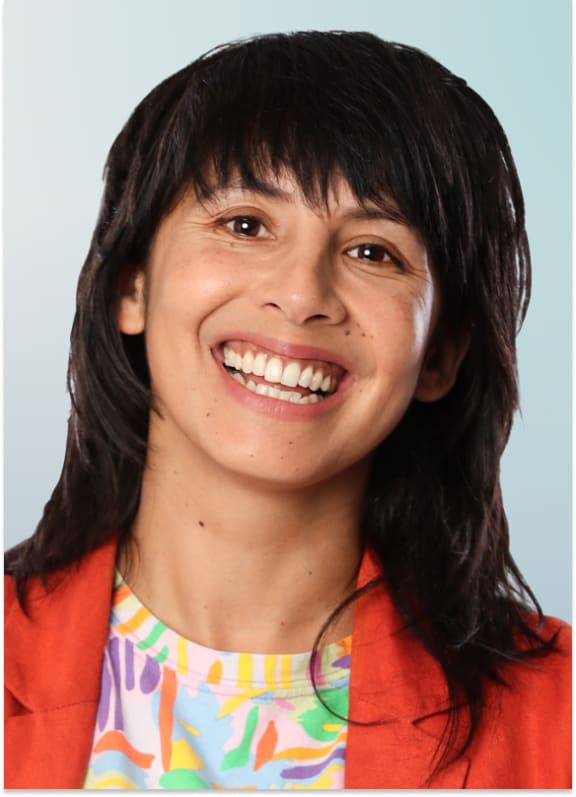 Yadana's media career began before the age of five when she appeared as Madame Butterfly's half-Japanese son for TVNZ's long gone opera programme.
That paid gig allowed her to buy her first cassette (Hitwave '83), and ever since, every one of her jobs has funded a life-long music addiction.
Stints on student radio stations - RDU, Radio Active and VBC 88.3FM waylaid her studies but ignited a passion for radio and reason to enter the hallowed halls of RNZ.
Yadana's first programme on RNZ was A History of Student Radio, and she's not been asked to return her swipe card since then.
Hosting Music 101 is a dream come true for Yadana.
Search results for Yadana Saw
Yadana Saw takes a listen to a new offering by Wellington band Rhombus, Texan trio Khruangbin announce tour dates to New Zealand and the mistress of the kooky, off-kilter pop Jane Weaver returns with… Audio

Gerry Paul is best known as the festival director behind extravaganzas like CubaDupa and Coastella is also an accomplished musician and performer. He speaks to Yadana Saw about his new release We've… Video, Audio

This week on Lost and Found, Yadana Saw shares originals and versions that have been sampled and covered by other artists. Tonight you'll hear Willie Nelson, Sade next to Nubya Garcia. Video, Audio

This week on Lost and Found, Yadana Saw goes all things with strings featuring songs from Bill Withers, Jackie Wilson and new local artist Erny Belle and many other eclectic selections. Video, Audio

Yadana Saw shares a couple of new songs from local artists, including one who has recently been on tour with Harry Styles, and uplifting, rousing gospel reissue from influential Chicago preacher… Audio

In this week's Pocket Edition with Yadana Saw, Don McGlashan on his new album Bright November Morning, siblings Caleb and Georgia Nott talk about the origins and the adventures as musical duo BROODS Audio

This week's mixtape selector is Chris Bourke, Audioculture editor and presenter of New Zealand music history series Blue Smoke. He shares the songs that have shaped him and speaks with Yadana Saw Audio

This weeks bpocket edtion features... Audio

Music reviewer Yadana Saw reflects on the Super Bowl halftime show which was celebration of Dad music and the Gen X culture, and the curious ukulele skills of Australian Prime Minister Scott Morrison… Audio

The RNZ Music Watchlist: Ones to Watch 2022

We might not be able to predict when Covid might end or what the next variant may be, but the RNZ Music team can gaze into who and what will be worth a spin. Video

Love them or loathe them, the English band UB40 are deeply entwined into Aotearoa's musical DNA. Yadana Saw explores how a reggae-pop band from the British West Midlands burrowed into the South… Video, Audio

RNZ music journalist Yadana Saw unravels the Spotify stoush, as Joe Rogan responds to Neil Young's departure from the platform. She'll also play a couple of her favourite summer tracks. Audio