Navigation for Station navigation
Katy Gosset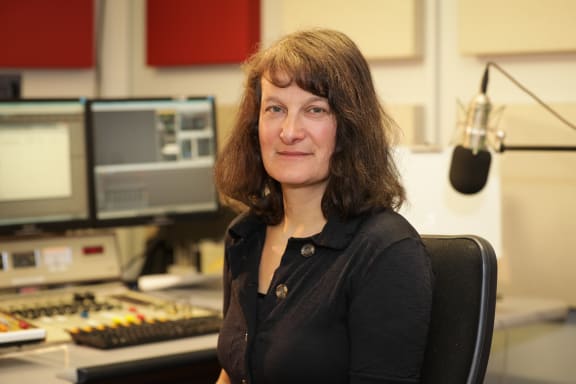 Katy is a Series and Podcast producer and has also been a producer and presenter of One in Five, Spectrum and New Zealand Society.
Katy always wanted to be a journalist.
Each morning in her family home started with the theme tune to Morning Report. (Still does.)
As a student she read the news on 98 RDU in Christchurch and soon became a DJ, hosting breakfast, brunch and drive shows.Fast-forward a few years (OK, make it 20) and she now presents and produces Are We There Yet ? on RNZ National and contributes to Eyewitness, Our Changing World and Voices.
In between, Katy spent many years as a news journalist, covering numerous court cases, public meetings, industrial disputes, not to mention earthquakes. She was judged Individual Radio Journalist of the Year in 2009 and was a finalist again in 2013.
Katy started presenting the Christchurch Story segment on Afternoons with Jim Mora in 2006 and joined One in Five in 2012. She was a finalist in the Radio Awards Best Documentary or Spoken Feature category in 2013.
In 2015 she won a Silver Award at the New York Festival Radio Awards for a documentary on teaching children with learning disabilities about puberty and sexuality.
Along the way, she's worked in television, print, PR and publishing and lectured in journalism. She's also pulled a few pints, folded wontons in a takeaway shop and performed as a children's clown. (And can still twist a mean balloon animal!)
She's never found anyone who doesn't have a tale to tell and still feels excited (and frequently moved) when she hears a compelling piece of audio.
RNZ Programmes
The pleasures, pratfalls & practical lessons of parenting in the modern world.

GOLD MEDAL, NEW YORK FESTIVALS RADIO AWARDS 2020. A Stuff/RNZ podcast about the Erebus Disaster and what happened next. Produced by Michael Wright and Katy Gosset.

Fragments is a six-part podcast and video series about the day of the 2011 earthquake and what's happened in the decade since. Produced and hosted by Katy Gosset using interviews originally…
Search results for Katy Gosset