The Critic's Chair series ended in March 2015.
The Russians are coming on The Critic's Chair this week. Robert Johnson reviews an advance copy of violinist Natalia Lomeiko's disc of Prokofiev Sonatas on the New Zealand-based Atoll label. Also, a new recording from the LA Phil of Shostakovich's 4th Symphony with Esa-Pekka Salonen conducting, as well as the complete Kabalevsky Piano Concertos with pianist Michael Korstick accompanied by the Hannover NDR Radio Philharmonic under the baton of Alun Francis.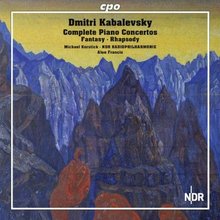 KABALEVSKY: balevsky: Complete Piano Concertos; Fantasy; Rhapsody
Michael Korstick (piano), NDR Radio Philharmonic Hannover/Alun Francis
(CPO 777 658)

In Kabalevsky's Second Piano Concerto there are strong echoes of passages from Prokofiev's First and Second, even some of the spiky piano writing of the Fifth. It's certainly derivative, but there are also lots of good original ideas, and Kabalevsky was certainly a first-rate craftsman. There's no lack of subtlety in Michael Korstick's performances, but there's plenty of panache. The First Concerto should have quite an appeal to lovers of big-boned Romantic piano concertos, particularly in this no-holds-barred performance.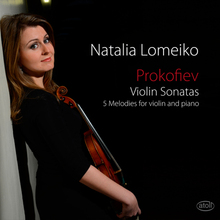 PROKOFIEV: Violin Sonatas Nos.1 & 2; Sonata for Two Violins; 5 Melodies for violin and piano
Natalia Lomeiko (violin), Olga Sitkovetsky (piano); with Yuri Zhislin (violin)
(Atoll ACD 513)

Both of Prokofiev's Sonatas for violin and piano were composed for the legendary Russian violinist David Oistrakh. Of all twentieth century composers, it was Prokofiev who had the most natural gift for writing melody, and the Sonata in D opens with one of his most memorable tunes. The Sonata in F minor was sketched, brooded upon and finally written down over a period of eight years, and it reflects Prokofiev's intense anxiety over the situation in the Soviet Union. Shostakovich, who was sometimes quite critical of Prokofiev's music, regarded this sonata as a masterpiece.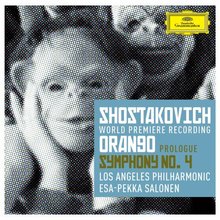 SHOSTAKOVICH: Orango; Symphony No.4
Los Angeles Phil Master Chorale, Los Angeles Phil/Esa-Pekka Salonen
(Deutsche Grammophon 479 0249)

Until recently no-one even knew of the existence of Shostakovich's unfinished satirical opera Orango, which dates from the early 1930s. This recording was stitched together from the three world premiere performances in Los Angeles a year-and-a-half ago. It's a curiosity, but the Fourth Symphony is unequivocally one of Shostakovich's greatest symphonies, and its influence on a younger generation of Russian composers was incalculable. The performance is masterful, drawing out subtleties of phrasing and texture while never losing sight of the dramatic and psychological structure of this perplexing but fascinating work.