The Critic's Chair series ended in March 2015.
This week The Critic's Chair is hosted by Peter Mechen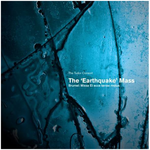 The "Earthquake" Mass
BRUMEL: Missa Et ecce terrae motus; JACK BODY: Psalm 137; ROSS HARRIS: Vobiscum in Aeternum
The Tudor Consort/Michael Stewart
(Organism ORG007)

This disc represents a pretty stunning achievement by these singers and their inspirational director. The Brumel receives a resplendent performance, and it's all beautifully captured on a recording made at the Wellington Cathedral of St. Paul earlier this year by the Organism label. The proceeds of this disc go to Christchurch Cathedral's music programme.


Valentina Lisitsa - Live at the Royal Albert Hall
Music by Beethoven, Chopin, Liszt, Rachmaninov & Scriabin
Valentina Lisitsa (pno)
(Decca 478 457)

Valentina Lisitsa's playing is in places urgent and forward-driving, in others sensitive, withdrawn and vulnerable. Lisitsa's playing in Chopin's Nocturne Op.27 No.2 is as finely drawn and characterfully shaped as any of the old-time great pianists on record. For the CD booklet to say "Live at the Royal Albert Hall" when the tracks contain several that weren't, and at the expense of some that were, strikes me as being misleading and reprehensible on Decca's part.


GERSHWIN: Rhapsody in Blue; RAVEL: Piano Concerto in G minor; SAINT-SAENS: Piano Concerto No 2 in G minor Op 22; The Swan, from Carnival of the Animals
Benjamin Grosvenor (pno), Royal Liverpool Phil/James Judd
(Decca 4783527)

Grosvenor is the first British pianist signed by Decca in almost Sixty Years.  His playing is guaranteed to make you gasp in places and luxuriate in others. In the Ravel G Major Concerto, Grosvenor and his conductor James Judd beautifully balance energies and liquid repose throughout the first movement, but to my ears the divine slow movement sounds curiously unsettled at a pace a few notches too fast and fails to enchant. In the Rhapsody in Blue the energies generated are tremendous, with the overall atmosphere richly-hued and flavoursome.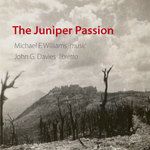 MICHAEL WILLIAMS: The Juniper Passion
Julia Booth, Atephanis Acraman, Lila Carpinelli (sops), Pene Pati (ten), Matthew Landreth, James Ioelu (bars), Orchestra/Rachael Grifiths-Hughes
(Atoll ACD 243)

The Juniper Passion is a new three-act opera by New Zealander, Michael Williams in collaboration with librettist John Davies, and was a finalist in the recent SOUNZ Contemporary Awards competition. Thanks to the wonderfully vivid realizations by Atoll Records of both composer's and librettist's intentions, this multimedia work comes across with great force and atmosphere as a sound-only production. By the time I reached the beautiful Epilogue, I was properly caught up in the tragic beauty and strength of the whole. The Juniper Passion is a beautiful work that I very much suspect is here to stay.