The Critic's Chair series ended in March 2015.
Presented by Peter de Blois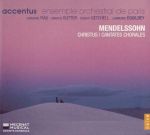 Mendelssohn: Christus | Cantates Chorales
Sandrine Piau (sop)
Robert Getchell (ten)
Markus Butter (bar)
Accentus Choir
Ensemble Orchestral de Paris/Laurence Equilbey
(Naïve V5265)
Perhaps one of the finest gems on this disc is Mendelssohn's Verleih uns Frieden (Give us peace).  After hearing this impressive rendition, I'm sure you'll agree with Schumann when he said "this little piece deserves to be world-famous and will become so in the future".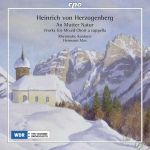 Heinrich von Herzogenberg: An Mutter Natur: Works for Mixed a cappella
Rheinische Kantorei/Hermann Max
(CPO 777 728)
The pieces on this CD are miniatures – the longest is only 6.5 minutes long.  Each is a well-crafted masterpiece which reminds me very much of the music of both Mendelssohn and Brahms.
Michael Head: Songs
Ailish Tynan (sop)
Catherine Wyn-Rogers (mezzo)
Roderick Williams (bar)
Christopher Glynn (pno)
(Hyperion CDA67899)
Words such as 'elegant' and 'refined' are often used to describe Head's songs and his style is similar to that of Roger Quilter. 
High Flight: Choral Music by Whitacre, Lauridsen, Chilcott
The Concordia Choir / René Clausen
The King's Singers
(Signum Classics SIGCD262)
The Concordia Choir demonstrate that they are at complete ease in this style and exhibit high levels of vocal control, phrasing and shaping.  When it comes to the King's Singers I have to admit to being a fan from way back.  However, I'm really a fan of their arrangements and not so much of their serious side.  They have such a well-known sound which suits clever arrangements.  This King's Singers High Flight CD is well worth purchasing, it introduces much new repertoire written especially for the group. 
James Whitbourn: Living Voices/Son of God Mass/Requiem canticorum
Jeremy Powell (saxophone)
Ken Cowan (organ)
Jonathan Palmer Lakeland (piano)
Ronn Carroll (reader)
Jacob Ezzo (percussion)
Westminster Williamson Voices/James Jordan
(Naxos 8.572737)
James Whitbourn is a composer who has made a real name for himself.  He's been described by the Observer newspaper as "a truly original communicator in modern British choral music".  I think his music is just stunning.