The Critic's Chair series ended in March 2015.
Presented by Robert Johnson
ROUSSEL: Le festin de l'arraignée; Padmâvatî Suites Nos.1 & 2
Royal Scottish National Orchestra conducted by StéphaneDenève
rec. October 2010, Henry Wood Hill, Glasgow, UK
(NAXOS 8.572243)
"If you're not familiar with Roussel's music, this is an ideal disc with which to start, before going on to enjoy the symphonies."
LILBURN: String Quartet; String Trio; 2 Canzonettas for Violin and Viola; Sonata for Violin and Piano (1950); Duos for Two Violins
Martin Riseley (violin) with The Chamber Players of the New Zealand School of Music
rec. June 2011, Wellington, New Zealand
(Atoll ACD 142)
"It's the String Quartet that opens the disc. The first movement gradually reveals the thirty-one-year-old Lilburn's mastery of harmonic tension, and of the process of building large musical structures from small cells. The emotional intensity of this movement is quite striking; in fact, in that respect alone I think it's one of the most remarkable movements he composed."
Tribute to Lloyd Morrison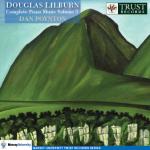 LILBURN: Piano Music, Volume 3
Dan Poynton (piano)
rec.April 2006, Ilott Theatre, Wellington Town Hall, Wellington, New Zealand
(Trust MMT2067)
"February brought the sad news of the death, at the age of just 54, of one of New Zealand's most prominent and respected businessmen, Lloyd Morrison… In 1995, [he] established the HRL Morrison Music Trust with the aim of supporting New Zealand musicians and composers. To that end he established the Trust Records label, whose first project was to record all 32 of Beethoven's piano sonatas in performances by Michael Houstoun, the first 3-CD instalment of which won the 1995 Classical Award of the New Zealand Recording Industry Association.
Over the next few years Trust Records issued two CDs of orchestral and chamber music by Gareth Farr, helping to establish Farr's career both in New Zealand and internationally. Farr introduced Morrison to Ross Hendy, and together they established the music publisher Promethean Editions which, among a vast range of other projects, publishes the music of both Farr and John Psathas, and has been producing collected editions of the works of Douglas Lilburn and Larry Pruden. Between Promethean Editions and Trust Records, the contribution of Lloyd Morrison to the musicians and composers of New Zealand has been incalculable…
Volume 3 of this series appeared last year and easily fulfilled the promise of the earlier volumes… Another piece on the disc, recorded for the first time, is The Young Pine-Tree, composed in 1945.  This deeply expressive piece takes the form of an imaginary dialogue between a young pine-tree on Banks Peninsula and the great and ancient kauri Tanemahuta in the North… it impressed and moved me at the time, and I've returned to it on several occasions since. I play it now, complete, in tribute to Lloyd Morrison."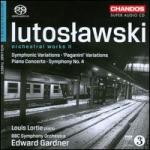 LUTOSLAWSKI: Piano Concerto; Symphony No.4; Symphonic Variations; Variations on a Theme of Paganini
Louis Lortie (piano), BBC Symphony Orchestra conducted by Edward Gardner
rec. June 2011, Walthamstow Assembly Hall, London, UK
(Chandos CHSA 5098)
"British conductor Edward Gardner is proving to be a superb advocate for the music of Polish composer WitoldLutosławski. His recent CD of works for solo voice and orchestra was exemplary, and a new CD including the Piano Concerto and the Fourth Symphony proves to be equally so.