The Critic's Chair series ended in March 2015.
Presented by William Dart
CRISPELL/NUNNS/HENDERSON: This Appearing World
Marilyn Crispell (pno), Richard Nunns (t.p.), Jeff Henderson (reeds)
(Rattle RAT-D027)
"A fascinating, sometimes unpredictable interface of performers. One of the longer tracks, with the mystifying title of 'Tough Fairy, My Dear', opens with Crispell's fairly severe piano, a little like someone playing a Pierre Boulez Sonata in slomo. Producer Steve Garden seems to have engineered it so the sound draws you into the very heart of the instrument and the sound-making. Jeff Henderson's sax casts massive swooping lines over the piano. They're big statements and, on the side, there's the comparative whisper of Nunns' kōauau. Henderson is the pivotal force here; you can hear him digging into Crispell's chords and, when Nunns brings in some more confrontational sounds, the two men indulge in a sort of avant-haka, before the music eventually settles again. There are moments to cherish on 'This Appearing World'."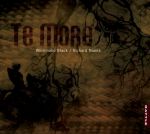 Te More
Compositions by Whirimako Black, Richard Nunns, Mihi-ki-te-kapua, Justin Kereama, Pikihuia Paraone & Te Kooti Rikirangi Te Turuki
Whirimako Black (vocals), Richard Nunns (t.p.)
(Rattle RAT-D028)
"This is a far cry from the standards and such for which Black is better known, presented in both Te Reo and English. The new album, 'Te More', groups together original songs with a number of tributes including one to the 19th-century Tuhoe and Mataatua songwriter, Mihi-ki-te-kapua. Her 'Taku Rakau' is quite some experience. After a long sighing, sweeping and very atmospheric introduction from Nunns, Black enters, her voice shadowed by itself and the eerie rush of Nunns' soundworld. It's not difficult to be caught up in the almost mystical ritual that this music can suggest, and I spent more time than I thought I would with this disc, immersing myself in the often complex fabric that producer Steve Garden has woven. An expressive and extremely personal collection of waiata."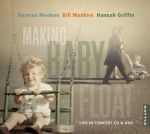 MEEHAN: Making Baby Float
Norman Meehan (pno), Hannah Griffin (vocals), Colin Hemmingsen (reeds), Bill Manhire (words), Wade Reeve (gtr/BVs), Nick Tipping (bass/BVs), Ruth Armishaw (BVs), Mara Simpson (BVs)
(Rattle RAT-D030 - CD & DVD)
"'Making Baby Float' features a dozen settings of Bill Manhire poems by Norman Meehan and sung by Hannah Griffin. 'Kevin' sets the tone, with what eventually becomes Meehan's familiar gospellish piano. The poem itself is as touching as when I first read it six years ago. Evocative images such as the mysterious heavy radio that sometimes — which one of Manhire's delightful shifts of tone — turns on a terrible breakfast show. A few of the songs move from the gospellish ambience which, I admit, would make this album a very very attractive proposition for a wide and general audience. Meehan's harmonic path is a mite predictable and sometimes settings seem to go against words. Also, in the poem '1950s' there's something a little askew with the casting. Hannah Griffin dispenses an attractive cool for most of the album and I know gender issues can seem a little passé in 2011 but Bill Manhire is writing these words very much from a boy's point of view."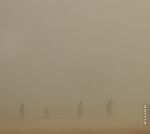 PRIOR & McKINNON: Who's Most Lost?
Arcades: David Prior & Dugal McKinnon; with Arnold Marinissen (drums/perc/saw), Urs Signer (cls), Ella Turk-Richards, Portia Winters & Aimee Page (BVs), Mick Green (tsax), John Matthias (banjo gtr/vln), Norman Meehan (pno), Paul Swoger-Ruston (egtr)
(Rattle RAT-D026)
"Arcades is the name by which composers Dugal McKinnon and David Prior identify their partnership. Rattle's press release spins words about the pair's subverted pop sensibility sitting perfectly with the label's penchant for music that follows its own compass. 'Who's Most Lost' is a set of 13 rather tricky pop songs that delight in toying and sometimes mashing our expectations. They're elliptical pieces, and if we were thinking a paper score, there'd be a lot of white in between the black. Both McKinnon and Prior are known for their weighter works — Prior can boast prizes at the illustrious Bourges Festival - but in 'You Were Born Into This' they have furnished me with a gorgeous summertime hit that I suspect will be on high rotate over the next few months. Alt.pop perhaps or maybe existential bubblegum, its wafting scales, modish sonic gristle and cute boyish vocals are irresistible."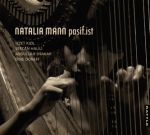 MANN: Pasif.Ist
Natalia Mann (hp), Sercan Halili (kemences), Abdullah Shakar (basses), Dine Doneff (db) & İzzet Kızıl (perc/drums); with Richard Nunns (t.p.), Lucien Johnson (saxes), Serdar Pazarcıoğlu (vln), Riki Gooch (drums/perc), Naomi Jean O'Sullivan (co-writer/gongs) & Deniz Güngör (aqua)
(Rattle RAT-D029)
"Natalia Mann is based in Melbourne now, but was born here, studying harp with Carolyn Mills of the NZSO. She seems to have found herself in a strong alliance with Turkish culture and her group is closer to the Bosphorous than the Tasman. And while her instrument — nicely enough played — makes welcome associations for me with names like Dardanelle, Dorothy Ashby and Alice Coltrane, it's just a little on the cosy side. One track has New Zealand connections: 'Greenstones' brings in Richard Nunns and his taongo pūoro, from the chime of pounamu itself to the kōauau, which sounds particular bird-like here - a lovely, lovely performance. Yet the harp part behind him does limp somewhat."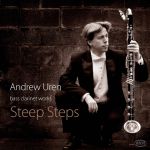 Steep Steps
BROPHY: gloVe; A GILBERT: Réflexions, Rose nord; GARDNER: Charge; DE CASTRO-ROBINSON: These Boots (are made for dancing); CARTER: Elliott Carter; RIMMER: AU; SCHOLES: Wireless; GARDNER: Knot; AMBROSINI: Capriccio, detto 'L'Ermafrodita'; XENAKIS: Échange
Andrew Uren (bcl), 175 East, Stroma, Sarah Watkins (pno), Lenny Sakofsky (vibes), Katherine Hebley (cello), James Gardner (cond), Timothy Sutton (btbn), Matthias Erdrich (db)
(Atoll ACD 212)
"Uren may, just the other day, have been enthusing to me about the joys of playing Reed V in the recent Auckland production of Cole Porter's Anything Goes, but I suspect he's an avant-garde man at heart. He's had the best of our composers write for him. The playlist of Andrew Uren's album is divided between local and international, and it's one of the international items which really does showcase Uren's musicianship and virtuosity. The title piece, Elliott Carter's 'Steep Steps', has a real buoyancy to it, a jazz feel. How nice it is to revisit Peter Scholes' Wireless, which used to be Scholes' own signature piece. To hear Uren alongside his musical colleagues is a source of endless joy. He's there as part of a fairly large ensemble in Xenakis' 'Échange' and John Rimmer's 'AU'. Then there's 'Réflexions, rose nord', a lovely duet for bass clarinet & vibraphone by British composer Anthony Gilbert. Uren's album note brings up the issue of stillness and the passing of time, both of which are memorably caught in Wayne Laird's immaculate production."