The Critic's Chair series ended in March 2015.
Presented by Murray Khouri
Comparing recordings of Brahms' Clarinet Quintet in B minor Op 115
First Choices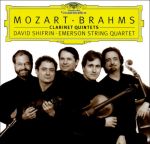 David Shifrin (cl), Emerson String Quartet
rec. December 1996, American Academy of Arts and Letters, New York
Coupled with Mozart's Clarinet Quintet K581
(DG 459 641)
"This isn't a fiery passionate performance like Busch & Kell, more like the EMI recording with the Melos and de Peyer. But this production has the advantage of modern digital technology which allows a lot of detail, usually lost, to be audible. The overall quality here is its extreme sensitivity, with the clarinet providing the same tonal palette as the strings. A first-class production which combines fire and poetry in equal measure."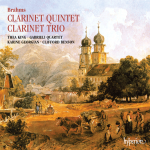 Thea King (cl), Gabrieli String Quartet
rec. January 1983, St Barnabas's Church, North Finchley, London
Coupled with Brahms' Clarinet Trio in A minor Op 114
(Hyperion CDA 66107)
"This is one of the best engineered of my batch, thanks to the legendary Decca engineer Kenneth Wilkinson. The many doublings of clarinet and first violin blend and one can hear inside the quartet making Brahms' counterpoint crystal clear. Musically, one is struck by the complete naturalness of the performance. The music is allowed to speak for itself; it's the kind of performance that repays repeated hearing."
Budget Choice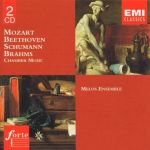 Melos Ensemble
rec. May-July 1964, Abbey Road Studio No 1, London
Coupled on a 2-CD set with works by Mozart, Beethoven and Schumann
(EMI 5 72643 - also as digital download)
"A warm glow suffuses clarinettist Gervase de Peyer and the Melos Ensemble's recording. It's no use pretending the analogue recording sounds anything but dated but the remastering has been well managed. The Melos's tempi are deliberate but without sluggishness - it says much for this music that it blossoms under a variety of approaches."
Collector's Choices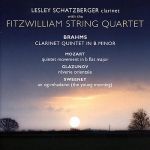 Lesley Schatzberger (cl), Fitzwilliam String Quartet
rec. May 2005, National Centre for Early Music, York
Coupled with Mozart's Quintet Movement, Glazunov's Rêverie Orientale Op 14/2 and Sweeney's An Òg-Mhadainn
(Linn CKD 278)
"Schatzberger went to German instrument maker Alfred Tutz to commission a copy of the instrument belonging to Brahms' clarinettist, Richard Mühlfeld. Its sound is small and sweet, and balances well with the Quartet all using gut strings. The overall sound is less boomy and more focused than that of modern instruments, and when it comes to balance they provide a model of clarity. A worthwhile acquisition."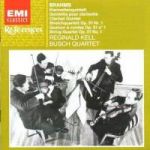 Reginald Kell (cl), Busch Quartet
rec. October 1937, Abbey Road Studio No 3, London
Coupled with Brahms' String Quartet in C minor Op 51/1
(EMI CDH 7 64932)
"Poetry, colour and warmth are found in abundance here. Revisiting this great performance I still find it unbelievable that the recording was completed in a single day and that Kell and the Busch Quartet had never met before. If I had to summarise its qualities into one word, it would be its humanity. Clarinet and quartet caressing and projecting each phrase yet never forgetting the overall shape and structure. This recording has been released in various guises but the EMI Références issue has the best sound."
Other Featured Recordings
Charles Draper (cl), Léner String Quartet
rec. 1928
(Gemm CD 9903)
"A constrained monochromatic affair rushed through to accommodate the short playing time of each 78 side. The clarinet is backwardly balanced but there's some fine playing from the Léner Quartet."
Leopold Wlach (cl), Vienna Konzerthaus Quartet
rec. 1952, Mozartsaal, Konzerthaus, Vienna
(Millennium Classics MCD 80093)
"Wlach has a broad, creamy Viennese sound. This recording may seem stolid and unimaginative, but after repeated hearings one sees the virtues of tempo stability and not accelerating to the big climaxes. Overall a sober affair."
Benny Goodman (cl), Berkshire String Quartet
rec. date unknown
(Teldec 8.48262)
"The recording is shrill and nasal, and Goodman treads carefully, anxious not to be guilty of any musical solecisms. His sound is bright and monochromatic, and he snatches at many of the crucial phrases, unable to match the subtlety of his string playing colleagues."
Karl Leister (cl), Amadeus Quartet
rec. March 1967, Ufa-Studio, Berlin
(DG 419 875)
"Leister has a mellifluous sound never used with flair or imagination. It doesn't take long for the ear to tire of such unvarying smoothness and the lack of colour and crisp vibrant phrasing. There's none of the little freedoms and give-and-take between first violin and clarinet which bring the music to life."
Nash Ensemble
rec. 8 October 2005, Wigmore Hall, London (live recording)
(Wigmore Hall Live WHLIVE 0007)
"On this issue, the strings sound relatively emaciated whilst Richard Hosford's splendid clarinet overshadows his colleagues. The Nash Ensemble's performance is a lightweight one, not attempting to scale great heights or project new insights to the score."
Paul Meyer (cl), Capuçon Quartet
rec. July 2007, Eglise du Bon Secours, Paris
(Virgin 3 95147)
"The recording here is closely miked and is disfigured by extremes of dynamics, especially at the soft end of the spectrum. Meyer's tone becomes raucous in the loud passages and barely audible in others. Weight and sound of rhythmic solidarity are missing here - the broad phrases are pecked at without sustaining tone."
Frederick Thurston (cl), Griller Quartet
rec. 15 May 1941, Decca Studios, London
(Testament SBT 1366)
"Frederic Thurston was Thea King's teacher and subsequently her husband, and he recorded this performance in 1941. Sadly he rejected it for release, and it's only recently that we've been able to hear it thanks to Sydney Griller, who made his set of acetates available to Testament."
Sabine Meyer (cl), Alban Berg Quartet
rec. March 1998, Mozartsaal, Konzerthaus, Vienna (live recording)
(EMI 5 56759)
"The sound is dry and coarse, and close miked to keep audience noise to a minimum. It's a pity, because the performance has the virtue of simple joy minimising the darker elements of the score."
Harold Wright (cl), Boston Symphony Chamber Players
rec. May 1993, Boston Symphony Hall
(Philips 442 149)
"Sound and balance are first-class, free from unwanted enhancement. This is a refined performance. While I applaud this, as the performance proceeded I longed for a little more red blood and sense of drama where called for."