Podcast Classics for Tuesday 1 December 2015
Henryk Górecki (1933 - 2010)
Symphony No 3, Symphony of Sorrowful Songs
I Lento – Sostenuto tranquillo ma cantabile
II Lento e largo – Tranquillissimo
III Lento – Cantabile semplice
Górecki's Symphony No. 3 – the Symphony of Sorrowful Songs, now so often played in newscasts to accompany terrible suffering or to accompany grisly images, is, at first glance, an odd contender for one of the most popular pieces of contemporary music in the late twentieth and early twenty-first centuries. Just short of an hour in duration, its three movements are all marked 'Lento' – slow – and the composer sets texts from fifteenth century psalms, Polish folk songs and a piece of graffiti from a World War II Gestapo prison.
Many commentators attribute the success of this work, and its ability to affect so many listeners, to its preoccupation with sonority. In it, Górecki explores the potentials of sound itself – of the timbres of individual instruments. This is perhaps nowhere as apparent as in his treatment of the soprano voice. Pouring forth in beautiful arcs of sound, the human voice sits in counterpointto the orchestra, creating chasms that can be filled with grief, despair or radiant resignation. And the composer understands the qualities of balance and proportion. The vocal line very rarely overwhelms the orchestra, nor is it a constant presence. Rather, it seems to emerge from the ensemble at the required moment and gently relinquish her hold when that moment has passed.
Such a delicate balance of sound and effect creates a work that is not, in fact, a torrent of sadness, but a work that is lustrous in its complexity and richness. This preponderance of stillness and atmosphere of profound reflection often sees this work categorised along with those of Arvo Pärt and John Tavener in the school of 'new minimalism' or 'mystical minimalism'. However, any commentary that drew connections between this work and the 'new age' movement of the nineties irked the composer no end. Górecki was also quick to dismiss any reading of the work as specifically about World War II and Poland. Rather, the texts set in each movement, although from different sources, all examine the figure of the mother, the child and death.
Sara Macliver (soprano)
Sara Macliver is one of Australia's most popular and versatile artists, and is regarded as one of the leading exponents of Baroque repertoire. Sara is a regular performer with all the Australian symphony orchestras as well as the Perth, Melbourne and Sydney Festivals, Pinchgut Opera, the ACO and ABO, and Musica Viva, and a number of international companies.Sara records for ABC Classics with more than 35 CDs and many awards to her credit.Recent engagements are a national tour with the Australian Chamber Orchestra, Mahler symphonies with the Adelaide, Sydney, West Australia and New Zealand Symphony orchestras, a national tour with the Australian String Quartet, David in Charpentier's David & Jonathan for Pinchgut Opera, Creation with the Academy of Ancient Music, major roles with West Australian Opera, and in Monteverdi's Orfeo with the Australian Brandenburg Orchestra.
The New Zealand Symphony Orchestra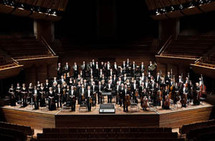 The New Zealand Symphony Orchestra is this country's only professional full-size orchestra. One of the world's oldest national symphony orchestras, they've been delighting audiences with memorable concerts and recordings since 1946.
They're continually on the road, touring as many as 100 symphonic concerts as well as dozens of dedicated concerts for children and small communities each year. While they present all their main programmes in Auckland and Wellington, they tour New Zealand extensively.
They perform in concert halls, schools, marae, hospitals, parks, rest homes and even on railway platforms. You'll hear them on radio, television, in movies and on CD. You can download their music and keep up with them on Facebook and Twitter. Their extensive Community and Education programmes take their music to children and young people up and down New Zealand, giving them a chance to get up close and personal with the players and inspire them towards a life-long love of music.
Full biography of the New Zealand Symphony Orchestra
All programme notes: NZSO, edited by Ryan Smith
Producer: David McCaw
Engineer: Graham Kennedy