Podcast Classics for Wednesday 1 April 2015
Maurice Ravel (1875 -1937)
Le Tombeau de Couperin for 2 marimbas (arr. Guldborg)
Prélude
Forlane
Menuet
Rigaudon
At 14 years old, Maurice Ravel entered the Paris Conservatoire, intending to become a concert pianist. He emerged instead as a virtuoso orchestrator and one of the 20th century's most innovative composers. His early music was considered revolutionary, and the Conservatoire had problems regarding him as suitable for the prestigious Prix de Rome – he was still declared 'ineligible' for it in 1905, by which time his Pavane pour une infante défunte, Jeux d'eaux and String Quartet in F had been published. The unfairness of this situation provoked a public protest.
Le Tombeau de Couperin was originally written as a suite of six piano pieces in the period 1914-17 and first performed in 1919. That same year four of them were orchestrated by Ravel, and it is these movements that are performed here. The music has been arranged for two marimbas by Thomas Guldborg. 'Tombeau' was the term for a memorial piece in the baroque era, and Ravel dedicated the individual movements to friends who had died in World War I. The whole suite, though, also pays homage to the 17th century French composer Couperin, and although Ravel generally adheres to the form and character of each dance, he also infuses the music with his own personal style and harmony.
The Prélude is a bustling moto perpetuo from which melodic fragments emerge, and it is dedicated to Jacques Charlot, who worked for Ravel's publisher. A Forlane is a lilting dance from north-east Italy in a lively 6/8, and the style became popular in France in the late 1600s. Ravel had studied the Forlane from one of Couperin's keyboard suites before writing this movement, though the piece also shows the influence of jazz and blues. It honours a painter friend, Gabriel Deluc. The Menuet was originally danced by couples in a stately in triple time, but it became stylised into a slightly faster piece with a contrasting trio, which Ravel presents as a gentle but emotionally charged central section. Menuet is dedicated to Jean Dreyfus, a friend with whom Ravel stayed when he was discharged from the army. A Rigaudon is a hopping folk dance, which also became popular in the 17th century French courts, and Ravel adds a simple trio section in the middle. He wrote it in memory of the brothers Pierre and Pascal Gaudin, who were killed on their first day of combat.
This performance was recorded during a concert put on by Chamber Music New Zealand last year. Visit Chamber Music New Zealand for upcoming events
Image: Maurice Ravel on the balcony of his house in Montfort l'Amaury (Wikimedia Commons)
Lenny Sakofsky, percussion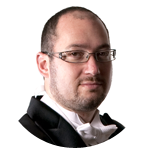 American born Lenny Sakofsky studied at the Manhattan School and Cleveland Institute and was a finalist in the New York Philharmonic concerto competition at the age of 17. He joined the Auckland Philharmonia in 1997, and has been Principal Percussionist with the New Zealand Symphony Orchestra since 2006. As a soloist he has performed with regional orchestras in the North Island, and in John Psathas' View from Olympus with the Christchurch Symphony and Auckland Philharmonia. For six years he was a member of the contemporary ensemble 175 East, and now works with Stroma.
Thomas Guldborg, percussion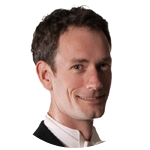 Thomas Guldborg studied in Denmark and at the New England Conservatory in Boston, then returned to his home country to work in various orchestras including the Aalborg Symphony. While in America he was a member of the Boston Philharmonic Orchestra, performed regularly with the Rhode Island Philharmonic, and New World Symphony and was a fellow at the Tanglewood Music Center in 1999. He spent six years in the Malaysian Philharmonic Orchestra before taking up the position of Associate Principal Percussionist and Assistant Timpanist with the New Zealand Symphony Orchestra.
Producer: Sophie Wilson
Engineer: Larry Elliot
Programme notes: Jane Dawson, Chamber Music New Zealand files