Podcast Classics for Sunday 1 March 2015
ALEXANDER ARUTIUNIAN (1920-2012)
Trumpet Concerto
Andante - Allegro energico - Tempo 1 - Meno mosso - Tempo 1 - Cadenza - Allegro con brio


Arutiunian grew up, studied, taught and composed prolifically in Armenia when it was still part of the USSR. This was a period when the use of indigenous music was looked on with great favour by both the state and the Composers' Union. Arutiunian's music, including this concerto, happily makes convincing use of Armenian folk rhythms and folk-influenced melodies. It is unashamedly music to enjoy; don't expect any of the angst or the regime-worrying hidden messages of Shostakovich or Prokofiev. There are, however, many moments in the concerto when you might note similarities to his more widely known fellow-Armenian Khachaturian.

The concerto is written in one continuous movement, but in effect it has three sections. After a short curtain-raising introduction there is a bright, rhythmic allegro. A beautiful slow section follows in which the trumpet plays a dream-like, muted solo and then the opening ideas return, culminating in an extraordinary cadenza that brings the piece to a dazzling close.

That cadenza is significant as it was added to the piece by Ukrainian trumpeter Timofei Dokschitzer in 1972; 20 years after Arutiunian had composed the concerto. Only after Dokschitzer had performed it with his cadenza did the piece capture the imagination of trumpeters and audiences.
BRENT GRAPES, TRUMPET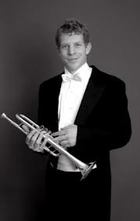 Born in Perth, Brent Grapes completed his initial studies at the University of Western Australia. In 2007 he was accepted into The Juilliard School in New York, where he studied with Raymond Mase and Mark Gould. During his time in New York, Brent established himself as both a soloist and orchestral trumpeter, winning first place in the Juilliard School concerto competition in 2007. From 2008 to 2010, Brent was a member of the UBS Verbier Festival Orchestra, and regularly performed with the New World Symphony.

He was the Principal Trumpet in the Auckland Philharmonia from 2009-2013, before moving back to Perth and taking up a position as Guest Principal Trumpet with the West Australian Symphony Orchestra.

Eckehard Stier, conductor
Eckehard Stier is the Music Director and Chief Conductor of Auckland Philharmonia Orchestra. Since 2003, he has also held the positions of General Music Director of the Görlitz Opera, and Chief Conductor of the New Lausitz Philharmonic Orchestra.

With a broad repertoire of opera and symphonic works, he is at the forefront of the most experienced, exciting and versatile conductors of his generation. In addition to his many concert activities he is associated with the conductor training programme of Symphony Services International for teaching the next generation of conductors. Eckehard Stier has built strong audience support for his distinguished performances as well as his championing of contemporary and lesser-known masterworks.

Auckland Philharmonia Orchestra
The Auckland Philharmonia Orchestra is Auckland's leading performing arts organisation, and the city's resident full-time professional symphony orchestra. Renowned for its innovation, passion and versatility, the APO collaborates with some of New Zealand's most inventive artists, including recent performances with leading Auckland hip hop artists in its Remix the Orchestra performance, Warren Maxwell, Nathan Haines and the Topp Twins. Additionally, the APO is orchestra of choice for visiting international acts such as Kenny Rogers, Diana Krall, and Serj Tankian.
Visit the Auckland Philharmonia Orchestra for upcoming events
Producer: Sophie Wilson
Engineer: Adrian Hollay
Programme notes: Auckland Philharmonia Orchestra