Podcast Classics for Monday 1 December 2014
Wolfgang Amadeus Mozart (1756-1791)
Sinfonia Concertante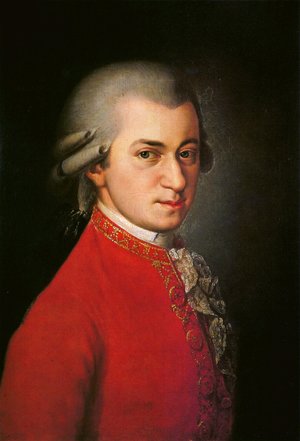 I. Allegro maestoso
II. Andante
III. Presto
One of Mozart's greatest and most beloved musical achievements, this Sinfonia Concertante – a concerto for violin and viola – stands as a signal post in the development of his individual and mature artistic voice. Thought to have been composed in 1779, Mozart's last year in Salzburg, the work is a clear statement of independence. Strikingly sophisticated, formally elegant and deeply expressive, it clearly articulates the development of a self-assured composer.

The work was composed shortly after his return from an extended tour of the Germanic states and Paris from 1777–1779. This musical form, a symphonic work akin to a concerto featuring two or more soloists, was particularly popular in the French capital at this time.

Mozart was a talented violinist and learnt from his father who was a master performer and teacher.. Despite this, the younger Mozart much preferred the darker tones of the viola and it seems more than likely that the viola part was composed with himself in mind. Mozart took great care with the instrument. He composed the part in D Major in order to favour the use of the open strings, which creates a bright and resonant sound.

The contrasts between the lightness of the violin and the darker shades of the viola are explored by the entire ensemble throughout the exquisite opening movement of the Sinfonia Concertante. Throughout the movement, the pair create a sense of easy conversation as musical material is freely passed between them. The movement comes to a close with a dazzling double cadenza. The middle Andante is an operatic duet for viola and violin. With poignant melodies and embroidered with gentle dissonances and chromaticisms, this music looks forward to the dramatic masterpieces of Mozart's later years. The almost giggling Presto is in a 'Tempo di contraddanza' and creates a sense of a joyful pastoral celebration with which to finish.

Image: Wolfgang Amadeus Mozart, posthumous portrait by Barbara Krafft, 1819 (Wikimedia Commons)
Vesa-Matti Leppänen, violin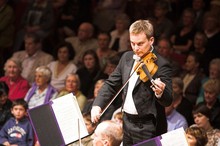 Concertmaster of the NZSO, Vesa-Matti Leppänen was born and raised in Turku, Finland. After completing his studies at the Turku Conservatory and Sibelius Academy in Helsinki, he joined the Turku Philharmonic Orchestra, one of the oldest symphony orchestras in Europe.

Since moving to New Zealand in 2000, he has toured the country as NZSO Concertmaster, soloist and chamber musician, working alongside internationally renowned soloists such as Pinchas Zukerman, Hilary Hahn, Steven Isserlis and Lang Lang. Leppänen has also performed as a featured soloist with all of the New Zealand orchestras. He performs on a Gennaro 'Januarius' Gagliano 1770 violin, on loan from Diessl Investments Ltd.

Complete Biography
Julia Joyce, viola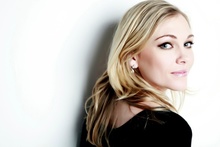 Julia Joyce is Section Principal Viola of the NZSO, and was in the Philharmonia Orchestra of London before that. She was awarded numerous scholarships to complete her Master's Degree in Violin/Viola Performance with Distinction at the Guildhall School of Music and Drama 2008.

At the Guildhall, Julia's quartet won the Guildhall String Quartet Competition of 2006, which led to work with the Takács Quartet and a televised masterclass, and concerts in France and Italy.  Julia was a finalist in the Guildhall Wigmore Hall recital competition, and performed for Her Majesty Queen Elizabeth II on two separate occasions during her time as a student in London. Julia and her husband Andrew formed the Puertas Quartet in 2009 and reached the semi-finals at the Bordeaux International String Quartet Competition 2010. She plays a fine Italian viola made by Emilio Rossi in 1926.

Complete Biography
Andrew Grams, conductor
As one of America's most promising and talented young conductors, Andrew Grams has already appeared with many of the great orchestras of the world. In the United States, these include the Cleveland and Philadelphia Orchestras, the Chicago, St. Louis and Detroit Symphonies, and the National Symphony Orchestra of Washington, D.C.

Maestro Grams was a protege of Franz Welser- Moest and served as Assistant Conductor of the Cleveland Orchestra from 2004 to 2007. He has recently been appointed to the post of music director of the Elgin Symphony Orchestra.

Complete Biography
 
The New Zealand Symphony Orchestra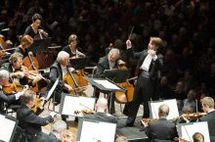 The New Zealand Symphony Orchestra is the country's only professional full-size orchestra. They have been delighting audiences with memorable concerts and recordings since 1946.
They're continually on the road, touring as many as 100 symphonic concerts as well as dozens of dedicated concerts for children and small communities each year. While they present all their main programmes in Auckland and Wellington, they tour New Zealand extensively.
Their extensive Community and Education programmes take their music to children and young people up and down New Zealand, giving them a chance to get up close and personal with the players and inspire them towards a life-long love of music.
Producer: David Houston
Engineer: Graham Kennedy
Programme notes: Frances Moore, edited by Hannah Sassman