Navigation for Beethoven!
Beethoven!
The Age of Enlightenment consists of Beethoven's first six string quartets, written when he was 30. The title of the series refers to the graceful, classical elegance of the music, typical of that period in history.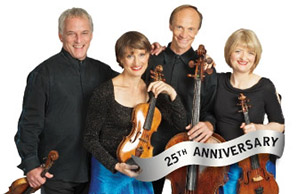 The New Zealand String Quartet
Helene Pohl, first violin
Douglas Beilman, second violin
Gillian Ansell, viola
Rolf Gjelsten, cello
BEETHOVEN! is a partnership project between the New Zealand String Quartet and Chamber Music New Zealand in association with the New Zealand International Arts Festival.
Find out more about BEETHOVEN! from the New Zealand String Quartet website.