Navigation for Station navigation
Eva Radich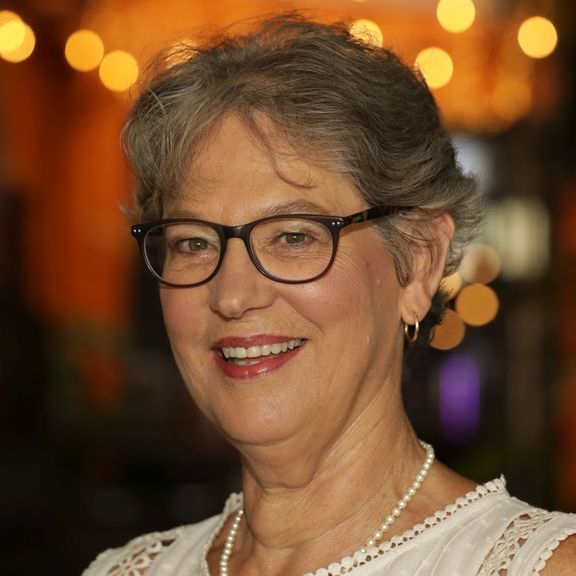 Eva comes from Hawera – the little town that produces broadcasters by the dozen – must be something they put in the water, or maybe that water tower?
At school she drove her teachers mad by asking subversive questions and it doesn't seem much has changed since.
You could say her broadcasting training began in the Hawera High debating team; free love, the war in Vietnam, legalization of marijuana and prostitution were just some of the memorable topics.
Armed with a BA in English literature and theatre Eva tried teaching but it wasn't long before the lure of the footlights proved too strong. Acting didn't bring fame and fortune but it sure beat the 9-5 routine. But after ten years as a struggling actor she was ready to get serious about a career.
In 1986 Eva discovered her niche: radio. The intimacy of the studio, the magic of the microphone, the way people will tell you things when they can't see you. She says it's the only medium where you get paid to ask embarrassing questions and have fun!
RNZ Programmes
Combining great musicians across multiple genres.
Search results for Eva Radich
Pick and Mix where Classical meets Prog Rock courtesy of Emerson, Lake & Palmer. We discover a highly polished and entertaining  ensemble album from Madeleine Peyroux.and feature winners of the… Video

Brodsky Quartet returns to New Zealand with a new member. Elizabeth Kerr was at the Michael Fowler Centre last night. Audio

Glenda Keam has been elected the first as the female and first New Zealand president for the International Society for Contemporary Music (ISCM). Audio

Eva Radich shares some of her highlights from the upcoming Wellington jazz festival as well as music by unique female singers with extraordinary personal histories.

 

  Video

Pick and Mix explores banjo nirvana with Béla Fleck & Abigail Washburn and Argentinian band Che Apalache bring Latin rhythms to bluegrass.

We discover new Welsh band VRï and enjoy the tranquility and… Video

Gecko artists working alongside Shanghai Dramatic Arts Centre have created an original story inspired by the dreams of William Shakespeare and Tang Xianzu. Chris Evans, one of the devising performers… Video, Audio

New guitar music from Julie Bevan and Malian superstar Bassekou Kouyate's tiny ngoni

Pick and Mix has new music by Wellington guitarist Julie Bevan and Malian superstar Bassekou Kouyate and we remember French pianist Jacques Loussier who has died after a fifty year career.  Video

Risk, learning and sharing remain fundamental to the joy for both players and audiences of the Grammy winning ensemble Silkroad, says Jeffrey Beecher, co-artistic director. Silkroad play Auckland… Video, Audio

Pick and Mix with accordion flair from Greece, Mongolia, Acadia and the world via the Silk Road Ensemble   Video

Pick and Mix features young trail blazing artists and 2019 Grammy Award winners. Video

Zoe George talks with David Morriss about the significance of the reopening of the Christchurch town hall. Sir Harold Marshall discusses his design of the hall's world class acoustics. We hear… Audio

Beginning on Saturday 2 March, RNZ Concert is making a few changes to the times we broadcast some of our radio programmes.