Pacific women as political leaders
None of the Pacific Island leaders who brought their countries to independence or self-government were women. By international standards, that was no surprise; in the 1960s and 1970s there were few women leaders globally and most positions of political power were held by men.
Across the Pacific, male domination of politics had long been the norm, which is not to say that women were without authority. In countries with chiefly traditions, women of high rank carried – and still carry - great influence, though only a very few – such as the much admired Queen Salote of Tonga – have governed in their own right and name.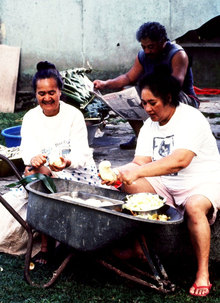 In matrilineal Micronesia, men are chosen by women to be chiefs, while Samoa's matai system ensures a role for women in awarding, and receiving, titles. And, as in all human relationships, the most powerful influences often work behind the scenes. Dame Carol Kidu remarks about PNG "Women are powerful in the private sphere, very powerful, but that power was not translated into the public sphere, where the men took the power."
As new flags were set flying from 1962 onwards, there might have been some hope that independence or self-governance would bring more opportunities for women and more encouragement for them to move into "the public sphere".
In their first national elections, voters in Samoa, Cook Islands, Fiji, Solomons and PNG elected some women parliamentarians, but their male Prime Ministers and colleagues did not see fit to appoint or elect them to Cabinet. Outside parliament, as expatriate administrators departed, women made some gradual advances into national and regional advisory posts. Few in number, they nonetheless exercised considerable influence in fields like administration and education.
Meanwhile, across most of the developed, democratic world, 'women's liberation' as it was popularly known, increasingly encouraged women to step beyond their traditional role within the family, and make the most of new opportunities in business, the professions, and politics.
By the 1980s, politicians such as Indira Gandhi, Margaret Thatcher, Corazon Aquino and Benazir Bhutto were leading major countries and among smaller nations women Presidents and Ministers were becoming commonplace.
Regrettably, the political advancement of Pacific women has yet to reach similar levels. While women (in groups or as individuals) have taken advantage of more opportunities to prosper in commerce, the professions and public service, the numbers standing for and being elected to Parliament have fluctuated. Fifty years after Samoa led the way into Independence in 1962, no Pacific Island nation has had a woman President or Prime Minister and the women interviewed here are among only a handful who have held senior or leadership positions.
In the 21st century, efforts are being made to change that, and advance gender equality in politics. These include projects sponsored by the Commonwealth Parliamentary Association, UN Women, and a major current project of Vital Voices that is supported by the Australian and New Zealand governments and the Asian Development Bank.
In Palau, UNDP and the Pacific Islands Forum have supported a 'Mock Congress', introducing women to governance and executive processes.
Action is also proposed in Samoa, where the number of women in the 49 member Parliament fell from four to two in the 2011 elections. The Prime Minister then called for an amendment to the Electoral Act to bring about a better balance between men and women in Parliament by 2015.
With similar intent, Papua New Guinea is considering a Bill which will reserve some Parliamentary seats for women only.
In 2011, as these proposals were being debated across the region, Ian Johnstone spoke to three women who decided years ago that it was time for them to step into the male-dominated world of politics, and take women's power from the private into the public sphere.
Overcoming mistrust, suspicion and sometimes misguided assumptions about the roles of women, Hon. Sandra Pierantozzi, Dame Carol Kidu and Hon. Fiame Naomi Mata'afa have made major contributions to political life in their country and across the Pacific.