The Dark Blue 100-Ride Bus Ticket by Margaret Mahy
Read by Peter Bland
When Carlo and his mother, Jessica, accept a free bus ticket from a strange old woman in the supermarket, they are really only being polite.  Secretly they think she must be slightly batty, with her talk about hundred free bus rides to the supermarket at the end of the world. How absurd! And yet, right outside their supermarket, which is of the most ordinary, everyday kind, a Number 13 bus pulls up... dark blue with gold stars, just like the ticket. Feeling suddenly adventurous, Jessica and Carlo take their seats... and nothing turns out the way you would expect. Because the wonderful supermarket is real - but so are the horrible Dowlers, who are plotting and scheming to destroy it. What begins with fun and laughter becomes violent and dangerous, and the courage of a pair of resourceful children will be needed if the horrible, howling Dowlers are to be defeated. For ages 8 to 12.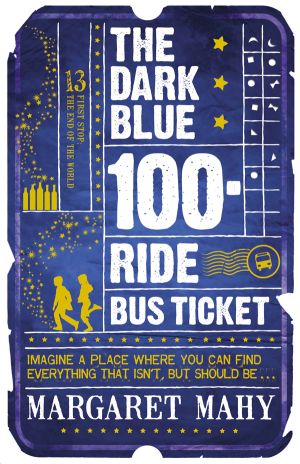 Published by HarperCollins NZ
ISBN: 9781869508166
Adapted for radio by Murray Reece. Produced by Prue Langbein and engineered by Darryl Stack for Radio New Zealand.