Scrap: Tale of a Blonde Puppy by Vince Ford
Read by Kip Chapman
A series about a blonde sheepdog growing up and learning the ways of the world. Scrap is a pup with an incredible ability to control sheep, but he doesn't know who he is or where he comes from. As Scrap searches desperately for his mother he finds out he's not like everyone else. For ages 5 - 1.
Please note the original on air-broadcast of Scrap was in 12 short episodes. These have been paired to make 6 longer episodes for the Treasure Chest.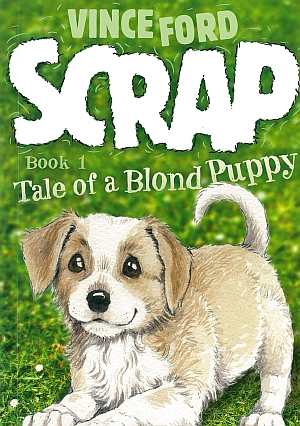 Publisher: Scholastic
ISBN: 978 1 77543 080 3
Abou the reader
2002 Unitec graduate Kip Chapman hit the mainstream via 80 episodes on Shortland Street, playing Waverley's country cousin. He starred in Cannes-invited short Nothing Special, as a man whose Mum thinks he is Jesus. Award-nominated as "ultimate hedonist" Levi in TV's The Hothouse, Chapman has since impressed in The Cult and Jane Campion/Garth Davis drama Top of the Lake. He also co-created stage hit Apollo 13.
About the author
Vince Ford spent his childhood on a 700-acre hill country farm at Mangamingi, east of Eltham in Taranaki. He studied for a Bachelor of Agriculture at Massey University and spent several years as a production manager for agricultural videos. Since winning the Storylines Tom Fitzgibbon Award in 1998, he has become a prolific author with his books that combine rural life in New Zealand with humour. His series' include 'Sports Max', and the more recent 'Chronicles of Stone' books. Ford received the 2001 Creative New Zealand Iowa Writer's Residency and was Otago University's 2007 Children's Writer in Residence. He lives at Wainui Beach north of Gisborne.