Fishing Fame by Melanie Drewery
Read by Simon Leary
Max and Dan end up bending a few rules to get their names on the fishing fame board. For ages 4 - 10.
Max and Dan are desperate to get on the Fishing Fame Board. They need to follow the rules and plan to get a boat to catch a big fish. Audio

Max and Dan end up with a huge shark but it drags them and the paddle boat round all day and then gets caught in a net. Audio

Max and Dan get help from Mr Peterson at the aquarium and he calls their parents too. Audio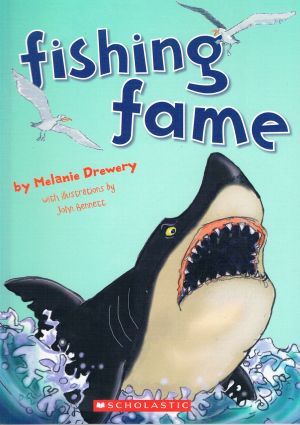 Published by Scholastic
ISBN: 978 1 77543 039 1
Melanie Drewery is a writer, illustrator and artist who writes primarily for children. She was born in Palmerston North, and lived in Fielding, Auckland, Picton and Blenhiem before settling in Nelson. She has worked as a children's librarian, a potter, an artist and as a pre-school teacher. She has been a professional writer since 1998.
Simon Leary graduated from Toi Whakaari in 2010 and won best male newcomer at the 2011 Chapman Tripp Theatre Awards for is roles in 'Mates and Lovers'. Simon is also part of the acting/writing team that created the serial 'You, Me… Now' for Radio NZ.
Produced by Jason Te Kare and engineered by Gareth Watkins for Radio New Zealand