Ian 'Flash' Gordon 1949-2014
Radio New Zealand sound engineer Ian Gordon died on 20 August 2014. We honour and pay tribute to a much loved father, grandfather, colleague, friend and movie star.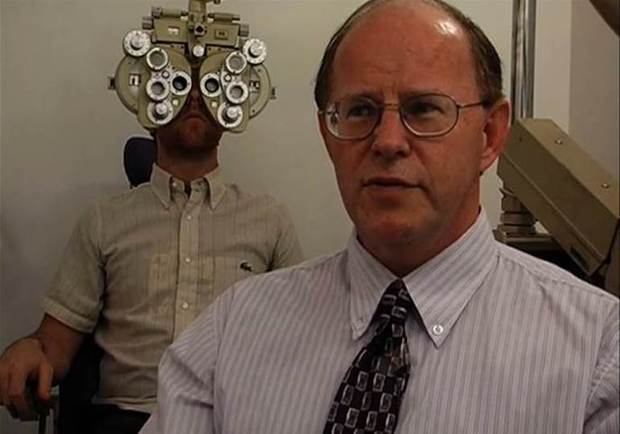 Ian as eternal optimist Robin Slade in 'Brown Peril: The Tim Porch Story', winner of the 2006 NZ 48 hour Film Festival.
Ian Gordon only joined the NZBC on May 8th 1967 after deciding to earn money rather than go to university.  He was originally a "Technical Trainee". He didn't do an induction course as the company was short staffed at the time so he went straight into doing on-air operational shifts and technical work.
His interest started to move more towards sound engineering and in 1969 he began training in Radio Drama. Ian of course must have had a bit of drama in his blood, his aunty was one of this country great writers, Janet Frame. So he transferred from the Technical section to the Studio Operators section and for 25 years on and off he was involved in recording Radio Drama.
He was also involved in recording commercials including some of the first stereo radio commercials when FM started. Ian won many radio awards for both commercial recordings and drama recordings. When the Radio NZ commercial/non commercial split happened in the mid 90s Ian was working in Drama so it was natural for him to end up in the "Public Radio" New Zealand.
The Drama section in Auckland has long since been disbanded but Ian continued working at Radio NZ through the various changes including the move to Radio New Zealand House Auckland and the evolution to digital recording and editing.
Ian worked in many different buildings during his 46-year career - famous ones like Durham Street and Cook Street but he also worked at Te Reo in Papatoetoe and also when it was in Albert St, as well as at the Shortland St TV studios.
Ian's media career took a surprising turn in 2006 when he appeared in the first of the Down Low Concept's entries in the NZ 48 hour Film Festival. He appeared in their other films in later years including Only Son in 2010 which went on to win Best Screenplay and Best Short Film at the New Zealand Film and Television Awards. Ian was credited as Ian "Flash" Gordon.
The Down Low Concept pay tribute to Ian here:
"We lost a warm, kindhearted, odd, lovely, fascinating, brilliant, genius, friend.

His name was Ian Gordon and he was an exceptional audio engineer at Radio NZ. But we'll always remember him as Flash – one of the funniest actors we've ever had the pleasure to work with.
RIP Ian 'Flash' Gordon"

- The Down Low Concept.
Recently Ian had been working most weekends as the Auckland studio engineer for Kim Hill's programme and with Wallace Chapman and Zara Potts on Sunday mornings.
Our thoughts go out to Ian's family, especially his brother  Dr Neil Gordon who attended an event held in Wellington in 2008 to mark Ian's 40 years at Radio NZ, and his daughter Aimee who emailed to say:
"Dad loved working for Radio NZ and we have many happy memories visiting him there".
Rest in peace Ian. Haere, haere, haere.
 - From the Radio New Zealand whanau, especially Ian's Auckland colleagues, many of whom worked with him for decades, and Wellington staff who have also worked alongside him over many years.
Ian Gordon Memorial Award
At Ian's funeral in August 2014, RNZ Head of Technology Matthew Finn announced that an annual Ian Gordon Memorial Award would be made to recognise excellence in RNZ's Technology Group.
Award Winners:
2014 - Shannon McKenna and Matt Thomson for their Axia network project.
2015 - Steve and Maxine White. Steve was recognised for his work with transmission projects in New Zealand, Australia, and Vanuatu where he restored a number of radio transmission services after Cyclone Pam. Maxine was recognised for the support she gives Steve who has to work away from home for much of the year.
A selection of audio tributes and programmes Ian Gordon worked on
Tributes from colleagues and friends of Ian Gordon
Poet and occasional Radio New Zealand guest Kirsti Whalen has blogged about meeting Ian, and has written a poem for Ian.
"For the past two summer seasons, Noelle and Ian and I were a team. Ian was a vital component of Summer Noelle - so much so that we often joked about changing the name to 'Summer Ian'.
Nothing was ever a bother for Ian. He would come in early if we needed him and he was always smiling and cheerful. He would often try and fix our cell phones for us or try and download apps on our phone even if we didn't want them. And of course, at ten o'clock he'd have to have his fruit.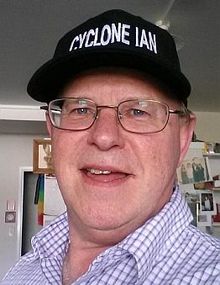 This last summer, there was a cyclone wreaking damage called Cyclone Ian. We would joke about it each morning and at the end of the Summer Noelle season we gave him a hat embroidered with Cyclone Ian on it. He was so pleased with it, he posted a photo of it on Twitter.
I will miss Ian for a lot of reasons. Not least, because he was a caring, sensitive soul who always looked out for other people and he was always interested in how you were and what you were doing. He was a sweet man who had a big heart and I know he will be sorely missed on future Summer (Ian) Noelle shows. I also worked every second weekend with Ian this year on Sunday Morning with Wallace Chapman, and once again he was a trooper. He took so much interest in every interview and everything we did - right down to critiquing each music track. If he loved it, we'd often do a little dance. In fact, dancing in the control room was a big thing for both Summer Noelle and Sunday Morning and I know that next time I'm in the control room and I hear a song with a good beat, I'll do a dance in honour of Ian. Goodbye Hurricane Ian. Thank you for everything you did and every smile you offered. We will miss you."
 - Zara, Noelle and Wallace
Ian was always full of surprises and habits. He couldn't get through a morning without his orange and was wedded to his gadgets. But despite the citrus stains on the SADiE jog wheel, Ian always turned out a fine programme. He was a much respected operator and loved for his eccentricities. I'll miss him very much.

- Sound engineer Jeremy Ansell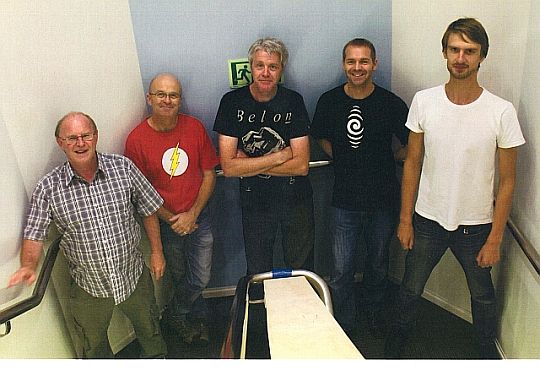 Ian Gordon (left) with his Radio NZ Auckland sound engineer collegues Brian Mahoney, Andre Upston, Jeremy Ansell and Alex Baron.
"Ian was a great operator who really cared about the project he was working on and charmingly stubborn about how to do it ("I'll just put this into my format" is the phrase I most heard from out of his mouth).
He loved the Wednesday afternoon Listener crossword sessions we have in the Auckland office - almost as much as he loved his mid-morning fruit break. He was a great yakker and it was occasionally bloody hard to get him going when I wanted to work and he wanted to talk away all of my studio time. But when he got down to it, he gave everything to the project in front of him. In short, he was a lovely bloke, and an excellent colleague. I was rather fond of him. I'll miss him." 
- Justin Gregory, Features Producer.
"Though he was based in Auckland and I've been in Wellington, over the years I've worked with Ian as my studio operator for various book readings and short stories.
He was always one for surprises – from our first encounter when he proudly told me that Janet Frame was his aunty, his various expeditions to Thailand for business and pleasure, the new electronic gadget he always had, his kindness in loading all my address on to my phone, his need to stop for lunch at 12 to get to his special sandwich bar in time, his willingness to work on later to complete something, his ability to multi-task in the studio, his delight in showing me the clips of his 48 hour film acting success, the pride in pics of his new grandchild and, most recently, in showing me his new car.
He'd worked with many Auckland actors for over 30 years and had an interest and opinion on them and the material they worked on. He always amazed me with his memory of who did what and when.
Eccentric, childlike, clever, affable and quirky, I'm sure there'll be many who will miss him too."
 - Prue Langbein, drama producer.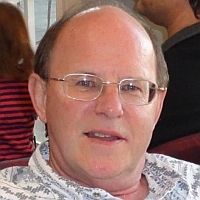 "Hi Ian, how are you?
Who has said that to him..? Get ready for a ride..!
Oh my knees, my back! Arthritis… Doctor's visits in full detail… gymnastics, travels to Thailand and Sydney. New car. And then some…
I always gave him heaps for his odd eccentricities and feel a special place in my heart for this original creature. I only knew him for 18 months, but there was never a time he held back his thoughts or ideas or came and shared some funny bits of information. With all his nuttiness, he still managed to put together some incredible award winning pieces for RNZ and was the master at analogue music mixing. What a master! If only we could all be a little more this way then the world would be a better place. No matter what… there will never be another Ian... and you will never be forgotten."
 - Dru Faulkner - front of house, RNZ Auckland.
Ian was a dear colleague and friend and a true master of his craft. Even though the majority of our listeners won't realise it, they will be the little poorer for his passing.

 - Lisa Thompson, features producer
And Lisa's nomination of Ian for the Radio New Zealand Chief Eexecutive's awards in 2011:
"Once a month, Ian helps to add the finishing touches to my Spectrum and Auckland Story features. No matter how vague my instructions or ideas are, or how much audio there is to wade through, Ian does so with a smile and a ready joke. His exacting attention to detail and deft use of Sadie, ensure that my rough and ready edits are polished away.
Ian also studio op'd during my first foray into on-air producing during last summer and his skill is testament to the fact that during 60 hours of programming, we didn't once crash the pips or have any dreaded dead air."
Rain on the roof by Janet Frame
My nephew sleeping in a basement room
has put a sheet of iron outside his window
to recapture the sound of rain falling on the roof.

I do not say to him, The heart has its own comfort for grief.
A sheet of iron repairs roofs only. As yet unhurt by the demand
that change and difference never show, he is still able
to mend damages by creating the loved rain-sound
he thinks he knew in early childhood.

Nor do I say, In the traveling life of loss
iron is a burden, that one day he must find
within himself in total darkness and silence
the iron that will hold not only the lost sound of the rain
but the sun, the voices of the dead, and all else that has gone.
Janet Frame wrote this poem about her nephew, Ian Gordon
Reproduced with the permission of the Janet Frame Literary Trust.
Some of Ian Gordon's many radio awards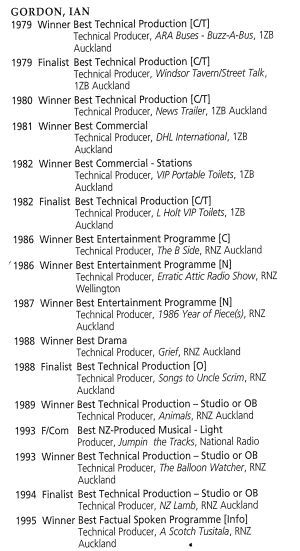 From The New Zealand Radio Awards 1978 – 1997, complied by John Joyce, publication funded by the New Zealand Radio Industry Awards Committee.