Te Wherowhero by Pei te Hurinui
The story of the warrior who became the first Maori King - Pōtatau Te Wherowhero.
Details all of the momentous events of Te Wherowhero's life from about 1775 to his death in 1860, including his status as Lord of the Waikato and the famous battles and conflicts with other tribes, the raising up of Pōtatau as the First Māori King, and Mana Motuhake, the Māori Kingship, set apart as the symbol of the spiritual and cultural life of the Māori.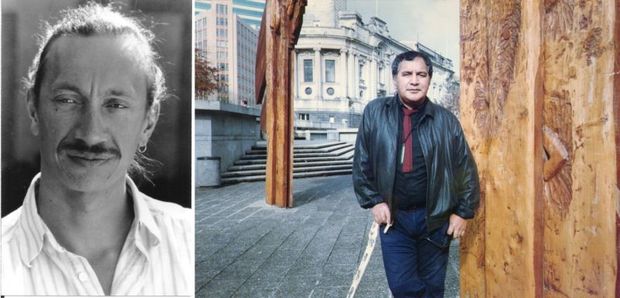 Left: Rangi Chadwick (1958-1995). Right: Selwyn Muru alongside Waharoa Aotea Square, Auckland. Photograph copyright Margaret Nepia Muru.
Read by Selwyn Muru and Henare Te Ua
Adapted for radio by Selwyn Muru and Rangi Chadwick from King Potatau: An Account of the Life of Potatau Te Wherowhero the First Maori King by Pei Te Hurinui.
Pei te Hurinui Jones (9 Sep 1898 – 7 May 1976) was renowned as a Māori scholar and writer. He was also a Ngāti Maniapoto leader, interpreter, land officer, translator, genealogist and a JP.   His work includes the editing and translating of three volumes of Māori chants and song-poetry into English; translating three Shakespeare plays into Māori; and, writing several books on Tainui and its people. He was made a member of the Order of the British Empire (OBE) in 1961 and received a Waikato University honorary doctorate in 1968.
External Links